Bulgarian President Offers Borissov to Form Third Government
By
Former Premier Borissov has seven days to propose cabinet

Borissov will form coalition with nationalist alliance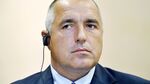 Bulgarian President Rumen Radev asked former Prime Minister Boyko Borissov to form his third cabinet in eight years ending five months of political uncertainty in the Balkan country.
Borissov, whose Gerb party won a snap election last month, has seven days to propose a cabinet for parliament's approval, Radev told reporters in Sofia on Thursday. Gerb and the United Patriots, an alliance of nationalist parties, signed an accord to form a coalition that gives them 122 lawmakers in the 240-seat assembly.
"We signed the coalition agreement earlier today, where we've tried to ensure a stable government," Borissov told reporters. "Now we have several days to work out the teams, experts and politicians. Nothing is agreed until everything is agreed."
The Black Sea nation of 7 million people is looking to end the political upheaval that's brought a spate of elections and restrained the country's economy. Borissov pledged to keep Bulgaria's commitments to the European Union and NATO as the country prepares for its six-month rotating presidency of the EU from next January.
The yield on Bulgaria's euro-denominated bonds maturing in September 2024 fell 1 basis point to 1.495 percent at 2:08 p.m. in Sofia, according to data compiled by Bloomberg.
Patriots, Stability
The next government will most likely remain in power until at least the end of the EU presidency next year, according to Stefan Georgiev, political analyst at Afis research agency in Sofia.
"It's difficult to foresee whether Borissov's third cabinet will fulfill its four-year term," Georgiev said by phone. "They have different ideological platforms with the United Patriots, who are a recent alliance and it's unclear how long they'll hold together. The cabinet's stability depends on the Patriots' stability."
Gerb's priorities include fighting corruption, boosting economic growth, overhauling the inefficient education and health-care systems while maintaining a balanced budget and low taxes. The Patriots, who campaigned to revive business ties with Russia, seek to boost wages and pensions, to reform the debt-ridden energy industry and strengthen the border with Turkey.
Former Finance Minister Vladislav Goranov has said he may keep his job in the new cabinet that may win parliament's approval on May 4.
Before it's here, it's on the Bloomberg Terminal.
LEARN MORE