Brexit Bulletin: Banks Issue New Warnings Over London
The financial industry makes its voice heard again on the future of London.
By
Immigration seen as vital to future of London after Brexit

Brexit Secretary Davis talks of 'compromises' ahead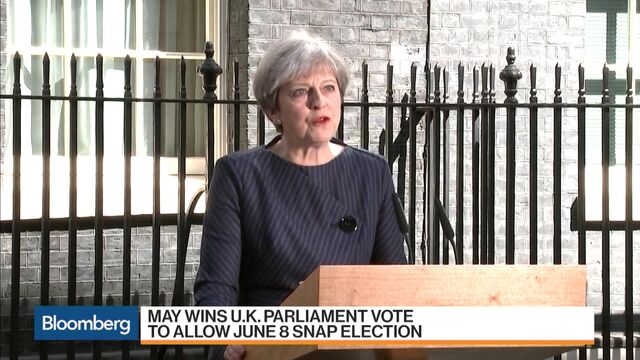 Sign up to receive the Brexit Bulletin in your inbox, and follow @Brexit on Twitter.
The financial industry waded back into the Brexit debate on Wednesday, warning it may soon start shifting jobs from London and lobbying the government not to curb access to foreign talent.
Deutsche Bank's top compliance executive said some 4,000 jobs could be moved elsewhere in the EU, while Barclays CEO Jess Staley said that he would pull the trigger on relocation plans within six months.
It's the latest in a series of confirmations, hints and warnings from leading figures in the industry.

Jeffrey Sprecher, who leads Intercontinental Exchange, a global network of markets and clearing houses, said Dutch, French and German officials are courting his firm aggressively and advised the British to find "a bit of swagger."
Speaking at a Prosperity UK conference in London, Staley also said Britain's post-Brexit immigration policy is more important to the health of London's finance industry than so-called "passporting" rights for the financial sector. About a quarter of the City of London's 360,000 or so workers are foreign-born, according to lobby group TheCityUK.
"We have to make a distinction between talent and immigration," said Allianz Global Investors Vice-Chairman Elizabeth Corley.
At the same event, Sprecher said moving the clearing of euro derivatives from London would lead to fragmentation in Europe, while NEX Group CEO Michael Spencer called the ramifications "dangerous" and "alarming." Elsewhere, Credit Suisse Chief Financial Officer David Mathers said his bank "will probably look to increase our clearing and transaction activity" elsewhere in the EU.
Meanwhile, Confederation of British Industry Director General Carolyn Fairbairn urged both sides to arrange any exit bill fast to get cracking on a deal for €600 billion (£508 billion; $654 billion) in annual trade.
British Nerves?
Brexit Secretary David Davis may have calmed nerves by telling the conference that "a global Britain" will always welcome the brightest and best.
But he might also have laid bare some concerns of his own by acknowledging "compromise will be necessary on both sides." That was the biggest signal yet that Prime Minister Theresa May's government does not expect to get everything it wants.
Hours later Foreign Secretary Boris Johnson predicted "negotiations will be tough and some plaster may fall off the ceiling," although he backed May to "pull it off."
The prime minister last night met EU Commission President Jean-Claude Juncker with both sides releasing bland statements describing the meeting as "constructive."
Other news from the election campaign:
A Times poll by YouGov put Conservative support at 45 percent. For the first time since the Brexit vote the proportion who believe the result was wrong hit the same level, although 43 percent still say it was right
May is set to abandon a Tory pledge to withdraw from the European Convention on Human Rights so as to avoid distracting from Brexit, the Daily Telegraph reported
Former Prime Minister David Cameron said May must first settle the exit bill before discussing trade, according to The Sun.
Europe Looks to the Future 
EU ministers meet in Luxembourg on Thursday for another round of discussions on their negotiating guidelines, although one official said they are unlikely to change much.
While Davis declared the U.K. won't take a "divide and rule" approach, Austrian Chancellor Christian Kern predicted the U.K. would try to split EU members.
Germany may be hardening its line. In a resolution put forward by governing parties, German lawmakers laid out a sweeping series of conditions for the Brexit talks and demanded a say on the final outcome. The document is the clearest iteration of the country's position and also ruled out any pact that would allow access to the European market for specific industries.
As for France, Bloomberg's Marc Champion writes how Emmanuel Macron, the favorite to win the presidency, might represent the last chance of saving the EU.
On the Markets
The case for the pound to push past the psychological barrier of $1.30 is strengthening as it manages to hold onto gains made after the election announcement, according to Bloomberg's Vassilis Karamanis. Sterling has languished below $1.30 since September, after continued losses in the wake of the Brexit vote.

And Finally…
Gina Miller, who took the U.K. government to court to force it to get parliamentary approval before beginning Brexit talks, has raised nearly £300,000 ($380,000) in a week to donate to candidates who want to keep Britain close to the EU.
Now she just needs a plan for how to spend it and the clock is ticking down to June 8.
"This is very complicated," Miller told reporters on Wednesday. "We have literally done this in a week."

For more on Brexit follow Bloomberg on Twitter, Facebook and Instagram, and see our full coverage at Bloomberg.com
Before it's here, it's on the Bloomberg Terminal.
LEARN MORE