BOJ Falls Further Behind Global Peers
by and
Japan on hold while Fed hikes rates, ECB faces taper debate

Kuroda says no talk of exit until 2% inflation target reached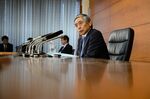 The Bank of Japan offered a slightly brighter view of the economy on Thursday. But its inflation outlook suggests the BOJ will be years behind the Federal Reserve and the European Central Bank in exiting its stimulus program.
The decision to maintain rates and asset purchases at current levels, with inflation still around zero, underscores the BOJ's struggle to eradicate the deflationary mindset that has plagued the country for decades. 
While private economists think Governor Haruhiko Kuroda's next move will be to tighten policy, with some penciling in estimates for a change later this year, the BOJ chief said it's premature to discuss any exit. He added that Japan must reach its 2 percent price goal first, and that this may not happen in a stable manner until after the fiscal year ending March 2019.
"I think discussing an exit in concrete terms now would run the risk of confusing markets," Kuroda said during a news conference after the policy decision was announced. "Economic, price and financial conditions at the time of the actual exit will determine the appropriate strategy."
The divergence between growth and inflation in Japan means the BOJ, which last year shifted its policy framework to make it more sustainable, risks again being a global outlier on monetary policy.
Read more: BOJ raises growth estimates while cutting CPI projection.
In the U.S., the question is how many times will the Fed increase rates this year, while in Europe, Mario Draghi faces increasing pressure to map out a path toward the end of stimulus. More will come from the ECB governor later on Thursday, when policy makers conclude a meeting in Frankfurt.

Most economists also expect the ECB to stand pat, but after what markets viewed as a positive result in the first round of voting in France, pressure is rising for more discussion about the possibility of tightening monetary policy.
Despite Kuroda's remarks, speculation about BOJ tapering has been on the rise. This is partly because a divergence between Japanese and global bond yields will put stress on the BOJ's policy framework. Many economists also see inflation picking up later this year, thanks to rising oil prices and a weaker Japanese yen.
Outlook Report
In its quarterly outlook report, the BOJ forecast consumer price gains of 1.4 percent this fiscal year, a cut from a previous estimate of 1.5 percent, and noted that inflation expectations are currently weakening.
Kuroda said expectations would start to strengthen due to rising oil prices and a widening positive output gap, but noted that price momentum still isn't strong enough.
Core inflation, which excludes fresh food prices, was 0.2 percent in February. Figures for March are due on Friday, with the median of estimates compiled by Bloomberg for another gain of 0.2 percent.
GDP Upgrade
The BOJ upgraded its view of the economy, describing it as headed toward an "expansion," its first use of that word in nearly a decade.
The central bank sees global demand supporting an uptrend in exports and production, and slightly raised its growth forecasts for the current and next fiscal years, to 1.6 percent and 1.3 percent, respectively.
Kuroda said the economy's "virtuous cycle" of higher profits, wages and prices was strengthening, but risks for the economy and prices were skewed to the downside, and included geopolitics.
"The forecasts didn't change much but reading between the lines of the statement you can see their rising confidence," said Maiko Noguchi, senior economist at Daiwa Securities and a former central bank official.
"The BOJ probably wanted to bring attention to bright parts of the economy as inflation has been very weak," she said. "Otherwise, they couldn't have explained why they can maintain such optimistic views on inflation."
Before it's here, it's on the Bloomberg Terminal.
LEARN MORE