business
Barclays CEO Faces Shareholder Opposition Over Whistleblower Scandal
By
Shareholders told to abstain from vote at AGM by proxy adviser

CEO under investigation for trying to identify whistleblower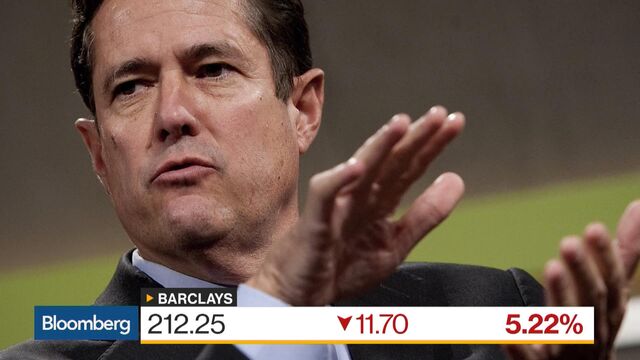 Barclays Plc's shareholders shouldn't vote to re-elect Jes Staley to the board after the chief executive officer embroiled the bank in scandal by trying to identify a whistle-blower in violation of the firm's code of conduct, a proxy adviser said.
Institutional Shareholder Services Inc. said abstaining is appropriate until industry watchdogs complete their probes into Staley's behavior, while those who are required to vote for or against should oppose the re-election. The CEO faces investors at the bank's annual general meeting in London on May 10.

"Jes Staley is now under investigation by U.K. regulators as to his individual conduct and senior manager responsibilities," ISS said in a report Thursday. "Given his personal involvement and accountability in this matter, and given the importance of his role as the group CEO, an abstention on his re-election is considered appropriate."
Barclays's board publicly reprimanded the CEO this month after discovering he had tried to unmask the whistle-blower even after he was told it was inappropriate. The whistle-blower had raised concerns in an anonymous letter about the hiring of a top banker last year.
That banker was Tim Main, a former colleague of Staley's at JPMorgan Chase & Co., people familiar with the matter said. Staley may have to forfeit his entire 1.3 million-pound ($1.7 million) 2016 bonus over the scandal.
Probes by the Bank of England's Financial Conduct Authority and Prudential Regulation Authority will take several months and could result in anything from a verbal warning to Staley losing his status as an approved person and therefore his ability to run the bank. The events are also under scrutiny by the Department of Financial Services in New York and the U.S. Department of Justice, according to people with knowledge of the matter.
ISS advised shareholders to vote in favor of all other board members, but highlighted the "significant external time commitments" of non-executive director Ian Cheshire, who was named chairman of Barclays's ringfenced U.K. business in February and started this month.
Cheshire -- who also holds non-executive positions at four other public companies including British department store Debenhams Plc -- has agreed to reduce his other responsibilities by September, the bank said in an emailed statement. Glass Lewis & Co., another investor adviser, said in a report shareholders should vote against Cheshire for the same reasons.
In August 2015, ISS came out against approving the management of Deutsche Bank AG, led then by co-Chief Executive Officers Juergen Fitschen and Anshu Jain, due to their handling of investigations of interest-rate benchmark manipulation.
ISS had no major issues with Barclays's remuneration report and recommended investors approve executives' compensation packages.
Barclays reports first-quarter results on Friday.
(
Updates with Barclays statement on Ian Cheshire in eighth paragraph.
)
Before it's here, it's on the Bloomberg Terminal.
LEARN MORE