markets
JPMorgan Warns of 'High Uncertainty' as Topix Turns Best in Asia
By , , and
Markets are too calm, JPMorgan Asset Management's Shigemi says

Shigemi sees 9% decline in Topix by August or September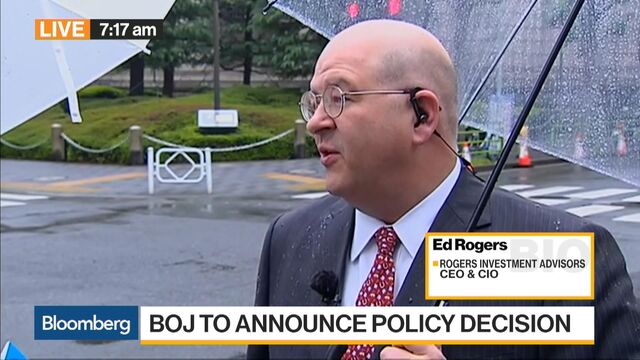 A strategist at a $1.8 trillion investment firm is scratching his head after Japanese stocks went from worst to best performers in Asia in the space of two weeks.
It's complacency, says Yoshinori Shigemi, a global market strategist at JPMorgan Asset Management Ltd. in Tokyo. Traders are seeing positives where the best that can be said is that something bad hasn't happened -- like in North Korea -- and are glossing over high valuations in the U.S. and the risk President Donald Trump won't deliver on his economic pledges soon, he said. He says the Topix index may fall about 9 percent by August or September.
After five weeks of losses, the benchmark stock gauge posted its best two-week gain since November. The index, which declined 0.3 percent on Friday, climbed at least 1 percent in four of the previous five days, as the first round of the French presidential election passed without shock, spurring outflows from havens such as the Japanese currency. As a measure of trader fear in Japan hovers near lows not seen since 2014, Shigemi says the calm is making him uneasy.
"We see high uncertainty," he says. "We cannot be so optimistic."

Shigemi says Trump's plan to slash the corporate tax rate to 15 percent, one reason why U.S. equities climbed to records after his election, will take much longer to implement than many people expect. Trump's top economic adviser Gary Cohn unveiled earlier this week what officials called the "biggest tax cut" in U.S. history, while leaving unanswered questions about whether the move would be paid for, or how.
He sees warning signs in the VIX index, the U.S. fear gauge, which is currently trading at the lowest in almost three years despite elevated valuations in U.S. equities. The S&P 500 Index is valued at 18.5 times estimated earnings, above its five-year average. It's a similar situation in Japan, where the Nikkei Stock Average Volatility Index stood at 14.69 at Thursday's close, near a March level of 14.58 that was the lowest since July 2014.
Investors "are aware that valuations are high, but even so they are taking a lot more risk," he says.
U.S. Spending
Toru Ibayashi, head of wealth management research at UBS Group AG in Tokyo, is closely watching slowing U.S. auto sales, which he sees as a sign of a slowdown in consumer spending. Car sales trailed estimates in March as demand plunged for sedan and compact models. Ibayashi expects that to hurt the Topix, which he says won't renew this year's high anytime soon.
"We believe the U.S. economy is solid, but it's not accelerating very strongly," Ibayashi said. People are betting Trump policy will weaken the yen and boost corporate earnings in Japan, he said. "I don't buy that story."
The yen has seen three stages since Trump's election. It weakened from around 103 per dollar in early November to about 118 in mid-December on optimism that the U.S. president's policies would spur growth. Then it gained to about 108 earlier this month, as the Trump trade receded and the Federal Reserve signaled a gradual path on raising interest rates. Since then, it's weakened to around 111.
All this has an impact on Japanese earnings, especially for the nation's giant exporters. As full-year reporting season kicks off in Tokyo for companies with March year-ends, Mitsubishi UFJ Morgan Stanley Securities Co. still sees 14 percent growth in ordinary profit at Topix companies excluding financials this fiscal year. Ibayashi, however, says profit growth will probably be closer to 2 percent.
Low Valuations
Not everyone is as pessimistic.
"I think Japanese shares are still relatively cheap," says Ichiro Yamada, a general manager of equities at Fukoku Mutual Life Insurance Co. in Tokyo.
The Topix traded at 13.9 times estimated earnings at its last close, compared with 15.9 times for a measure of European shares.
John Vail, the chief global strategist at Nikko Asset Management Co., agrees that valuations are "quite low." He forecasts that the Topix will rise about 10 percent by year-end. "Less fear of economic turmoil related to the French election improves both corporate profit prospects and investor confidence in general," he said, noting that improvement in corporate governance at Japanese companies is another cause for optimism.
But his upbeat outlook also hinges, to some degree, on geopolitical risks remaining contained. North Korea refrained from carrying out a nuclear test when it celebrated the birth date of its founder Kim Il Sung earlier this month, instead unsuccessfully launching a ballistic missile.
"The North Korea story remains a threat," Shigemi said. "Considering all these risks, it doesn't feel like we're in for a big upswing but rather, it's time to be wary about what'll come at you tomorrow."
— With assistance by Nao Sano
(
Closes Friday's trading in third paragraph.
)
Before it's here, it's on the Bloomberg Terminal.
LEARN MORE