Zuma's Nuclear Ambitions Are Dealt a Blow by South African Court
By and
High Court nullifies nuclear accords with Russia, U.S.

State power utility Eskom says it's still studying judgment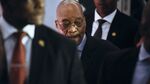 A South African court ruling that the government failed to comply with the constitution when it initiated a process to build new atomic power plants has dealt a major blow to President Jacob Zuma's nuclear ambitions.
The Western Cape High Court on Wednesday ordered the government to hold public hearings and a parliamentary debate on the nuclear program, which may cost as much as 1 trillion-rand ($75 billion). It set aside a 2015 decision to procure new nuclear capacity and nullified co-operation accords the government has concluded with countries including Russia, the U.S. and South Korea. Judge Lee Bozalek ordered the state to pay all costs.
Zuma has championed the building of as many as eight reactors that would generate 9,600 megawatts of energy starting from 2023 -- a plan opposition parties say is mired in corruption. Civil-rights groups including Earthlife Africa and the Southern African Faith Communities' Environment Institute said the government ignored due process in approving the plants and filed a lawsuit aimed at halting their construction. The Energy Ministry's own research shows additional nuclear power probably won't be needed until 2037.
The court ruling is a major blow for Zuma and his allies "because they will now realize that large infrastructure deals cannot be made behind closed doors and are subject to transparent and public participatory processes," Somadoda Fikeni, a political science professor at the University of South Africa, said by phone from Pretoria, the capital.
Gordhan's Dismissal
The new plants were a key point of dispute between Zuma and former Finance Minister Pravin Gordhan, who questioned whether the country could afford them. Zuma fired Gordhan last month, prompting S&P Global Ratings and Fitch Ratings Ltd. to downgrade the nation's international credit rating to junk.
Even if the government does appeal, the High Court ruling is likely to delay the nuclear program by months, if not years. With Zuma due to step down as leader of the ruling African National Congress in December and as president in 2019, the decision as to whether it goes ahead could be left to his successor.
"The court decision proves that correct procedures have not been followed and that it has been questionable from the start," Melanie Verwoerd, an independent political analyst, said by phone. "Zuma was always very keen on the nuclear build program and it is supposed to be his legacy project. The ruling certainly will not sit easily with him."
Bongani Ngqulunga, Zuma's spokesman, didn't answer calls to his mobile phone or respond to text messages. Donald Liphoko, the acting chief government spokesman, said he couldn't comment because the cabinet hadn't been informed of the ruling.
Energy Minister Mmamoloko Kubayi has told her department to study the judgment and "will pronounce on the matter in due course," according to a statement on Wednesday. The government has not entered into any deal or signed any contract for the procurement of nuclear power, although there are intergovernmental agreements in place with the U.S., South Korea, China, Russia and France, the Energy Department said.
Stop Procurement
State power utility Eskom Holdings SOC Ltd. initiated the process to build the new nuclear plants when it requested information from vendors in December and set April 28 as the closing date for responses. The company is studying the judgment and will comment later if necessary, spokesman Khulu Phasiwe said on Twitter.
"Eskom will have to stop its procurement process right now," Adrian Pole, attorney of record for Earthlife Africa Johannesburg, said in an interview.
The Democratic Alliance, the main opposition party, alleges that Zuma may have already signed a secret nuclear power supply deal with Russia and that the program would be used to benefit his own financial interests and those of his allies. The president and the government have denied the allegations.
"The court's findings have greatly narrowed government's ability to legitimately procure additional nuclear capacity," Gordon Mackay, the DA's shadow minister for energy, said in an emailed statement. "It will ensure much needed transparency over nuclear procurement going forward."
Before it's here, it's on the Bloomberg Terminal.
LEARN MORE