Your Evening Briefing
Bloomberg News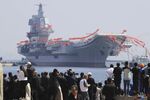 The evening briefing will soon be available in your inbox every day. To be among the first to get it, sign up here. 
Aircraft carriers are formidable pieces of hardware that instill fear into the most hardened of enemies, but they've got their limitations. Beijing just launched its first home-built carrier — second in a planned fleet of six. Despite the fanfare, analysts say it'll be years until the technology matches anything seen on a U.S. vessel. But even the American carriers aren't perfect. The much-touted armada fronted by the USS Carl Vinson, sent to deter Kim Jong Un's regime from doing anything drastic, has a significant gap: it can't shoot down ballistic missiles. In the words of one senior military analyst, "One carrier by itself is not a game changer." —Alex Millson
The electric car boom is so real even oil companies say it's coming. It used to be the opinion of carmakers, but now even oil companies are admitting that electric vehicles are coming fast. Total SA, one of the world's biggest oil producers, says EVs will make up 15 to 30 percent of the market by 2030, after which time demand for oil-based fuels will flatten out, or possibly even decline.
Bears have got the Hong Kong dollar in their sights. The city's currency — linked to the greenback since 1983 — is falling at the fastest pace in 14 months as a widening interest-rate gap with the U.S. reduces the allure of the city's assets. While it's still far from the lower end of its trading band of 7.85 against the greenback, its decline is drawing attention in a world where currency pegs are becoming rarer.
Owl Creek is shutting its Asian hedge funds. The New York-based asset management firm is winding down the funds following the voluntary departure of Hong Kong-based co-manager Chris Wang, according to a regulatory filing. Several other companies, including TPG-Axon Capital Management, Hutchin Hill Capital and Gruss Capital Management have recently shut Asian offices amid market volatility and mounting investor discontent.
An analyst who made $37,000 in an hour faces an $815,000 fine. The former equity analyst, who invested in a French company just hours before he published a recommendation raising it to "outperform," was fined for insider trading. At his hearing, the trader said he didn't think had done anything wrong.
Banks are getting serious about moving staff from London to Frankfurt after last year's Brexit vote, according to property brokers in the German finance capital. While Goldman and Citigroup were said to be considering the move back in January, banks are now looking "in earnest at specific locations" according to one leasing expert. Estimates vary wildly on how many jobs London could lose — figures from 4,000 to 232,000 have been mentioned.
Mystic washing machines are predicting a slowdown in China home sales. The sales growth of new homes will probably slow to a third of the rate in March, if the country's washing machines are to be believed. OK, there's no real mystery, but the rate at which washing machines are made is a good predictor of new home sales because each machine correlates almost one-to-one with completed new homes. Data on the appliances suggest the government's campaign to prevent a housing bubble is getting results.
This Singapore bar is home to the world's most-amazing gin collection. Atlas has 1,011 bottles and counting, not to mention an extensive collection of rare champagnes and a breathtaking interior. Time for a drink?

Before it's here, it's on the Bloomberg Terminal.
LEARN MORE