Personal Finance
Trump's Tax Plan Could Be Painful for New York, New Jersey, and California
Wealthier residents of high-tax states would be especially hard hit if they can no longer deduct state and local taxes from their federal taxes.
By and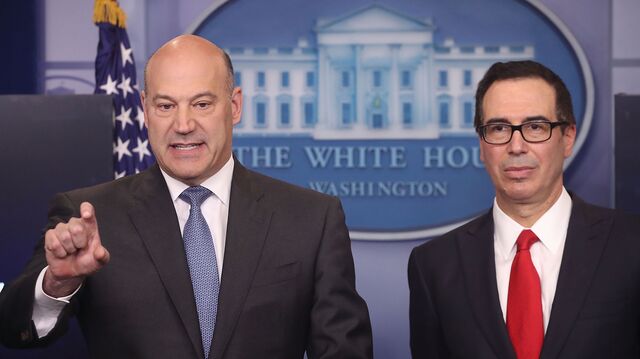 President Donald Trump's tax overhaul plan was short on specifics, but one proposal was clear enough to draw howls from residents of high-tax states. The plan would end deductions of state and local taxes from federal income taxes. Those are by far the biggest deductions for many taxpayers.

"There is no doubt that if you are a New York or California resident, your largest deduction, by a factor that could be as high as 10, is the state and local income tax," said tax expert Robert Willens, of New York-based Robert Willens LLC. "Historically a high-state tax was mitigated by the fact that you were able to deduct it, so it was really costing you 60 percent or 65 percent of what you were paying to the state." 
"New Jersey taxpayers would lose under that plan," New Jersey Republican Congressman Leonard Lance said in a statement, saying he supported some parts of Trump's tax plan but opposed eliminating the state and local tax deduction. "I will be a leading voice in negotiations for maintaining that deduction."
About 28 percent of tax filers claim the state and local deduction each year, according to the Tax Foundation. Of those, 77 percent deduct income taxes and the rest deduct sales taxes. The deduction ends up being far more valuable in states with the highest tax burdens.

Nationwide, wealthier taxpayers benefit the most from the deduction. More than 88 percent of its benefits go to Americans who earn more than $100,000 a year, according to the Tax Foundation. 
Eliminating the deduction would boost federal tax collections by $1.8 trillion over the coming 10 years, the foundation calculated last month. That's revenue that could be used to fund the administration's proposed tax cuts. The measure is part of a sweeping White House tax proposal that Treasury Secretary Steven Mnuchin called "massive tax reform and simplification," vowing to "unlock the economic growth that's been held back in this country."
Past efforts to end the deduction of state and local taxes, back in the Reagan years, never took hold, because the hardest-hit states complained so bitterly about it, said Willens. In the recent presidential election, Trump won none of the 10 states where residents benefit the most from the state and local tax deduction. The highest-tax state the president did take is Wisconsin, where 32 percent of taxpayers claim the deduction, which represents 6 percent of their adjusted gross incomes. He won all 10 states that benefit the least from the deduction, with the exception of Nevada. Alaskans benefit the least of all: 22 percent of filers in Alaska claim the deduction, but it represents just 1.5 percent of their incomes, according to Internal Revenue Service data.
If the change goes through, there's little that people can do except maybe decamp for Florida or Texas, where there is no state income tax. Not that tax collectors in high-tax states like New York make it easy to move.
Trump's tax plan does include a provision that could benefit wealthier taxpayers in high-tax states. The administration has proposed eliminating the alternative minimum tax, a parallel tax system that tends to ensnare taxpayers making more than $200,000 a year who claim lots of deductions. About four million taxpayers are subject to the tax.
A key trigger for the AMT is the state and local tax deduction. In New Jersey, for example, 82 percent of households with income from $200,000 to $500,000 are subject to the AMT, according to a Tax Foundation analysis last year. In Wyoming, which has no income tax, 26 percent of households in that income range pay the AMT.
Depending on the details of what's enacted, wealthier Americans could lose a key deduction but see their tax bills fall anyway.
Before it's here, it's on the Bloomberg Terminal.
LEARN MORE