Soros-Backed NGO Braces for Polish Crackdown Over Norway Aid
By and
Warsaw-based Batory Foundation fears it will lose financing

Hungary already seeking to shut Soros-founded university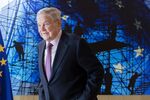 A Polish non-profit group financed by George Soros is bracing for government efforts to curb its work, the latest attack on the billionaire's civil-society activities in eastern Europe.
The Warsaw-based Batory Foundation, responsible for distributing some of the 809.3 million euros ($882 million) Norway plans to give Poland by 2021 to reduce economic and social disparities, is afraid it will be starved of funding. Poland wants the chunk that's earmarked for building civic society to be managed by a state-run entity, Deputy Prime Minster Piotr Glinski said last month. Norway requires the cash to be handed out by an independent body.
The move would mark a new assault on Soros in the region after the government in his birthplace of Hungary sought to shut down a university he finances in Budapest. Poland's ruling party has clashed with the European Union over rule of law, with leader Jaroslaw Kaczynski repeatedly praising Hungarian Prime Minister Viktor Orban for pursuing his country's interests inside the EU. Orban, whose nation has also gone after Norwegian grants, himself advocates "illiberal" democracy.
"Like in Hungary, there's a plan to cut off public funding to organizations that the government doesn't feel comfortable with and force them to curb or shut activity," Batory Foundation Director Ewa Kulik-Bielinska told Bloomberg News this week by phone. "Like in other areas, the government is trying to divide society so non-governmental organizations that protect human rights are portrayed as enemies."
No. 1 Beneficiary
Batory has been in charge of allocating the Norwegian funds since 2014, doling out more than 130 million zloty ($34 million) to 667 groups. They range from non-government organizations promoting democracy, gender equality and LGBT rights to church-linked charities. Since taking power in 2015, the Law & Justice party has sought to re-instill traditional Catholic values, some of which are at odds with policies of progressive groups.
In the run up to negotiations with Norway, Batory and several other NGO's came under attack from the government-run public media for promoting "controversial projects," a claim rejected by Kulik-Bielinska. In 2014, Hungary also clashed with Norway over how the oil-rich nation's grants are distributed.
"Dozens of projects run by watchdog groups check on hospitals and courts, and their funding must be independent from the government to avoid the temptation of being politicized," she said.
Poland is the biggest European recipient of Norwegian aid. The Nordic nation's EU affairs minister, Frank Bakke Jensen, said time is needed reach an agreement that's good for both parties. "The regulatory requirements are that fund operators in the recipient countries should have a good knowledge of the civil sector in the country, be independent of the authorities and have experience with fund distribution," he told Bloomberg.
"Negotiations are ongoing at the civil-servant level, and we're working to find solutions that are acceptable to both parties," Norwegian Foreign Ministry spokeswoman Ane Lunde said.
It's too early to discuss which institution will manage the cash, according to Polish Deputy Development Minister Pawel Chorazy. "Poland wants access to the civic-society funds to be broad-based, so potential beneficiaries from all areas of the country can participate," he said by email.
Before it's here, it's on the Bloomberg Terminal.
LEARN MORE