markets
Lotte Regrouping to Holding Company to Move Past Family Feud
By
Boards at four listed units OK plan to create holding firm

Overhaul could strengthen chairman's control: CEOScore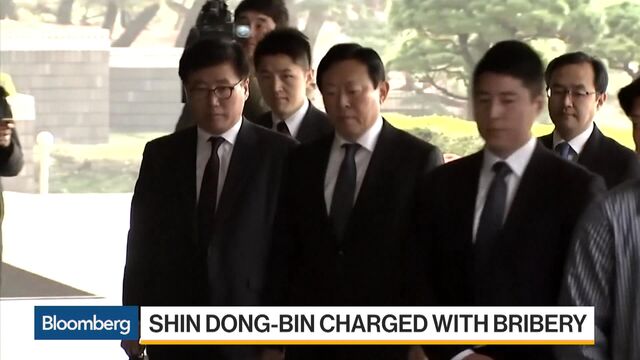 Lotte Group plans to divide four of its key businesses into operating and holding units in a move that will slash the number of cross shareholdings and extend its chairman's grip on the hotels-to-retail conglomerate rocked by a years-long family feud and a corruption trial.
Lotte Confectionery Co. will absorb the investment companies created when the South Korean group's listed shopping, food and beverage units are each split into operating and holding companies under a plan to be presented for shareholder approval Aug. 29, Lotte Group said Wednesday in a statement. The confectionery unit's investment company would then merge the holdings entities into a single business, effective Oct. 1, according to the filing.
The single holding company structure and cutting cross shareholdings to 18 from 67 could give more clout to Shin Dong-bin, the 62-year-old chairman and younger son of the founder, by making it harder for his elder brother and rival, Shin Dong-joo, to win over enough shareholders to gain control. Lotte has faced criticism from the government for a proliferation of cross shareholdings that allowed family members to exert excessive control relative to the number of shares they owned.
"The restructuring plan will allow Shin Dong-bin to have larger stakes in the holding company than his older brother," Park Ju-gun, president of corporate watchdog CEOScore, said by phone Wednesday. Park estimated the chairman's stake in the new holding company will be about 10 percent.
Shin Dong-bin holds about 9.07 percent in Lotte Confectionery, while Shin Dong-joo holds 3.96 percent, according to regulatory filings.
Trading in shares of Lotte Confectionery and the three other units: Lotte Shopping Co., Lotte Food Co. and Lotte Chilsung Beverage Co. was halted Wednesday before the restructuring plan was announced. Combined, the four companies had a market value of about $12 billion as of Tuesday's close in Seoul.
The Shin sibling rivalry isn't Lotte's only challenge. With almost twice the revenue of Coca Cola Inc., Lotte Group has seen its operations in China suffer from economic retaliation after the company allowed U.S. anti-missile batteries to be deployed on land it provided in South Korea. Shin Dong-bin is also among Lotte executives who have been indicted on corruption charges.
Read more on Shin Dong-bin's indictment on bribery charges here.
In 2015, Shin Dong-bin prevailed in a coup attempt by his older brother and their father. The plan backfired as the father, who was then chairman, got sidelined to an honorary position and the eldest son was stripped of group positions. Shin Dong-joo, 63, has since attempted multiple challenges to his younger brother's authority, but to little avail.
In spite of the indictments, family feud and pressure from China, investors have been sticking with the chaebol. Over the past two weeks as of Tuesday's close, shares of Lotte's listed affiliates had climbed about 15 percent, adding about $1.6 billion to the group's market value.
A reorganization could also unlock value and pave the way for an initial public offering of Hotel Lotte Co., a move that was delayed after prosecutors began an investigation of the company in June 2016. The hotel unit IPO is likely to take place in 2019, the Lotte official said March 24.
— With assistance by Jason Clenfield
(
Updates with comment from investor in fourth paragraph.
)
Before it's here, it's on the Bloomberg Terminal.
LEARN MORE