business
Kushners Are Partners With One of Israel's Wealthiest Families
By and
Unreported links could complicate Jared Kushner's policy role

Steinmetz diamond family member co-owns Manhattan buildings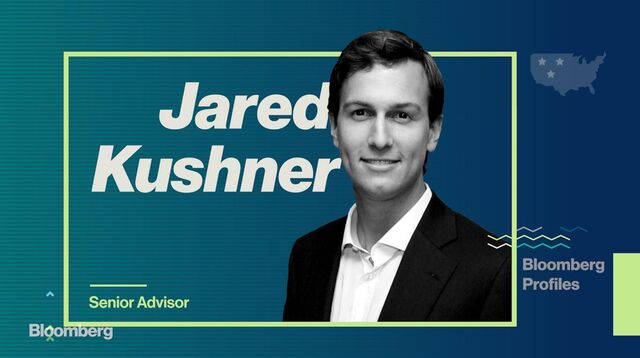 A member of one of Israel's richest families is among the largest investors in the companies owned by the family of Jared Kushner, President Donald Trump's son-in-law and senior adviser.
Raz Steinmetz, whose family built its fortune as diamond traders, has been partnering with Kushner Cos. since at least 2012, and they now co-own about 15 buildings in downtown Manhattan worth more than $150 million. Since then, the Kushner and Steinmetz families have also become co-investors in the Trump Bay Street tower in Jersey City, which licensed the Trump brand from the president's business organization.
The previously unreported business relationship between the Kushner and Steinmetz families illustrates how many key aspects of real-estate transactions between closely held companies aren't required to be disclosed and how little is known about the financial relations of Kushner Cos. at a time when Jared Kushner has been given immense political power. 
He has sold his stake in a number of his family's assets to other family members to comply with government ethics laws and avoid conflict of interest. But the sweeping scope of his new role -- he will oversee an attempt to resolve the Israeli-Palestinian dispute and consults on military strategy in Iraq as well as relations with China, Mexico and Canada -- has brought calls for him to sever his overseas business ties entirely. A White House spokeswoman said Kushner works with lawyers to recuse himself on any matters with a direct impact on his financial interests.
A Firm Named Gaia
Kushner Cos. lists a number of investors on its corporate website, and for a few years there was a reference to a firm named Gaia but it was later removed. Gaia Investment Corp. is an Israeli company with ties to Raz Steinmetz. A search by Bloomberg of real-estate documents revealed a Steinmetz-Kushner partnership. Asked about it, a spokesman for Kushner Cos. said, "Kushner Companies has a longstanding relationship with Raz Steinmetz and Gaia, who have been terrific partners." A spokesman for Gaia said that Steinmetz is a co-investor alongside Gaia and referred other questions to Kushner Cos.
Gaia Investment lists Shlomo Meichor and Assi Arev as principals. Meichor previously served as chief financial officer of Ampal-American Israel Corp., a New York-traded investment firm that Raz Steinmetz and his father Daniel bought a controlling interest in from Bank Hapoalim in 1996. Bank Hapoalim is among Kushner's lenders.

Ethics experts say the Kushner-Steinmetz partnership highlights the weakness of federal-disclosure rules. Real-estate investors can remain anonymous through shell companies, allowing businesses, individuals and foreign officials the opportunity to curry favor secretly with the administration through a real-estate investment. 
Some members of the Steinmetz family have long drawn the attention of authorities for their business activities and their personal finances. Daniel is the brother and business partner of Beny Steinmetz, the Israeli diamond billionaire. Beny's mining company has been the subject of a U.S. grand jury investigation into whether tens of millions of dollars in bribes were paid to officials in the African nation of Guinea in exchange for rights to one of the world's largest untapped iron-ore deposits. The Kushner Cos. spokesman said that Raz is the only Steinmetz with whom the company has done business.
Guinean Mine
In the 1990s Beny and Daniel formed Steinmetz Diamond Group -- now called Diacor International Ltd. -- which is one of about 80 companies that can buy gems from De Beers SA. Authorities from the U.S., Switzerland, Guinea and Israel are investigating Beny Steinmetz's involvement in a separate entity, BSG Resources, for the alleged bribes. Steinmetz has repeatedly asserted his innocence.
Earlier this month, BSG sued George Soros, saying the allegations and the company's loss of mining rights in Guinea were the result of a Soros-funded defamation campaign. Steinmetz accused Soros, who is Jewish, of longstanding animosity to Israel because of his support for human rights and the Arab minority there. Soros rejected the suit as frivolous and false. A spokesman for Beny Steinmetz didn't return requests for comment.
Real-estate transactions frequently involve investors who are undisclosed or identified only by inscrutably named subsidiaries. So while there are many widely recognized firms listed as partners on the Kushner company website, there is no way of telling how many undisclosed partnerships the Kushners may be involved with. A Kushner Cos. spokesman declined to address the matter or answer many questions about the partnership with Gaia and the Steinmetzes, including whether they have other business dealings and if they have collaborated on political or charitable causes.
A few relationships have come to light. On its website, Kushner Cos. lists Stonehage Fleming as a partner. The firm oversees more than $40 billion of assets for about 250 undisclosed wealthy individuals and families, primarily in Europe, the Middle East and Africa. It promotes itself as a guardian of privacy for the wealthy. Stonehage declined to comment.
Downtown Manhattan
In late 2013, the Kushner-Steinmetz partnership sold at least six of the properties it had purchased in downtown Manhattan to joint ventures between Kushner and Stonehage Fleming, a Bloomberg review of real-estate and financial-disclosure documents shows. The sales netted the Kushners and Steinmetzes at least $4 million on properties they had bought less than a year earlier.
In January, The Real Deal, a real-estate website, reported that Soros had helped finance Cadre, an online platform for investing in real estate founded by Jared Kushner and his brother Joshua. Institutions and wealthy investors use the platform to purchase stakes in property, mostly in major U.S. cities such as New York. Soros had provided the firm with a $250 million line of credit, the website reported. He has supported Democratic candidates and liberal causes and traded caustic insults with the Trump administration.
Other Kushner business moves have drawn scrutiny. Until last month, the Kushners had been negotiating a multibillion-dollar deal to partner with Anbang Insurance Group Co., whose owners have close ties to the ruling party in China, on their troubled tower at 666 Fifth Avenue. The plan was abandoned after details of the talks, with favorable terms for the Kushners, were published.
The partnership between the Kushners and the Steinmetzes goes back at least to 2012 when the two families partnered to spend more than $50 million for smaller residential buildings in Manhattan's downtown. 
Financial Disclosure
Kushner Cos. named Gaia among its partners in its annual report for that year. Three entities that Kushner listed in his 54-page disclosure to the federal government include "Gaia" in their name without explaining that they are related to joint ventures with outside partners. Gaia isn't currently listed on Kushner Cos.' website as a partner or lender.
The families expanded their play in downtown Manhattan when they spent another $130 million for more than a dozen properties before flipping some of the buildings to the Kushners' Stonehage Fleming partnerships, according to property records and people familiar with the transactions. Gaia later became partners in the Kushner Cos. Trump Bay Street project. It's unclear what portion of each project is owned by each firm, as equity stakes aren't required to be publicly disclosed in documents filed with New York.
For that reason, the breadth of Gaia's holdings is unknown. But its visible footprint in the city is small, with only one deal popularly attributed to it: the $56 million purchase of a Brooklyn pasta factory building earlier this year.
(
Updates starting in fourth paragraph with comment from White House and additional comment from Kushner Cos. A previous version corrected the link between Raz Steinmetz and Gaia.
)
Before it's here, it's on the Bloomberg Terminal.
LEARN MORE