Generation Gap Aggravates Divisions in South Korea as Election Looms
By
Sharp differences seen in voting intentions of young and old

Nearly two-thirds of Koreans see the issue as a big problem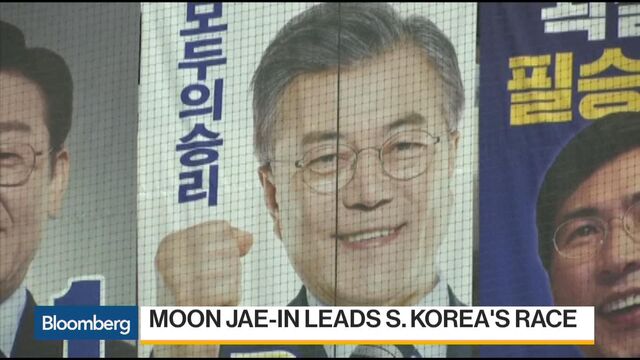 Jeon Byeong-kwan took to the streets late last year, joining millions of demonstrators seeking to oust former South Korean President Park Geun-hye and protest the nation's "wealth cliques." The 29-year-old event planner from Seoul sees Park's downfall as progress toward a fairer society.
His grandmother, 82-year-old Bae Ok-nam, disagrees. She views it as a betrayal of her generation's long struggle to rebuild a war-torn country that transformed it into Asia's fourth-largest economy, an effort largely directed by Park's father, the "great economic leader" Park Chung-hee.
"Did we really have to jail her? That broke my heart," she said.

Intergenerational resentments may influence the outcome of the vote on May 9 to elect Park's replacement, and will add to the challenges facing the next president, which include slowing economic growth, rising inequality and youth unemployment. A growing number of people -- nearly two-thirds of Koreans, according to one survey -- view the generation gap as a serious problem.
According to a Gallup poll in late April, 53 percent of respondents age 19 to 29 supported Moon Jae-in, the left-leaning front-runner, while just 17 percent of those older than 60 supported him. Only 11 percent of those between 19 and 29 said they supported presidential candidates from conservative parties -- compared with 20 percent of those above age 60.
Read more: Why prosecutors have arrested the deposed president.

Past administrations are partly to blame for the discord because they sought political advantage by pushing the idea to both sides that resources weren't distributed equally among the old and young, said Jung Hae-sik, an associate research fellow at the Korea Institute for Health and Social Affairs, who's led research into the generation gap.
"We need new language to solve the problem," Jung said. "The problem can't be solved if we continue to view it as a distribution issue. We need to discuss how to enlarge the pie."
At the heart of the divide are two very different experiences of life.
When the Korean war ended in 1953, "people were literally worried about starving," said Kim Nak-nyeon, a professor who teaches economic history at Dongguk University. The war-struck cities didn't have the infrastructure to support all the people pouring in from the countryside looking for a better life, and many had to live in shanty towns while taking care of family members, he said.
The country went about rebuilding, and gross national income per capita grew from $67 right after the war to $27,561 in 2016, according to the Bank of Korea.
"Our generation went through all sorts of hardships," Jeong Young-wha, 56, a former housewife who now owns her own business, said at a pro-Park demonstration in Seoul. "The young people today enjoy the fruit of our economic endeavors." 
But the years of rapid economic growth are well over, and difficulty finding good jobs has created a different set of barriers for today's young Koreans.
Read more: How young and old have been fighting over jobs.
Many of the nation's youth now refer to themselves as the "sam-po generation," or the generation that's given up on relationships, marriage and having children, because their economic prospects have become so limited.

"I hate it when old people tell you how to behave based on their past," said Baik Minki, 27, a Seoul resident who plans and manages exhibitions and theater performances. "We've had different hardships. The old may have suffered physically, but we suffer mentally."
The youth unemployment rate stood at 9.8 percent in 2016, more than double the level two decades earlier. During the same time the average age of first marriage for men has risen to 32.8 years from 28.4 years. The birth rate stands at 1.26 per woman, near the lowest among nations in the Organization for Economic Cooperation and Development.
"South Korea experienced radical industrial changes from a fast-growing economy to an economic slump," said Cho Chuel, a senior research fellow at the Korea Institute for Industrial Economics and Trade.
Voter turnout among the young should be strong. In the 2012 election, 69 percent of those in their 20s voted, while 81 percent of those in their 30s did, according to the National Election Commission of Korea.
Meanwhile, Jeon, the event planner who is at odds with his grandmother, said he tries to understand his elders and their conservative ways but will keep working for a society that offers opportunity for everyone.
"We had a really big fight and from then on we stopped talking about politics," he said, referring to his grandparents. "Now most of the time, I keep silent and just listen to what they have to say. But these days, especially after Park was arrested, it's been easier for me to just leave them be, because things are already going in the direction that I see as right."
Before it's here, it's on the Bloomberg Terminal.
LEARN MORE