Frito-Lay's Volume Sputters in Troubling Sign for PepsiCo
By
Snack division posts first decline by that measure in years

Rising gas prices may be hurting demand for potato chips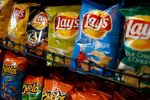 Salty snacks have been a less reliable source of fuel for PepsiCo Inc. this year.
The company's Frito-Lay division -- long seen as a growth engine for a company dealing with a soft-drink slump -- saw volume drop last quarter in North America. Though price increases helped the business generate a sales gain in the period, the volume dip is "noteworthy," said Kevin Grundy, an analyst at Jefferies LLC.
The 1.5 percent decrease marks the first time in about five years that volumes have been negative for the business, he said in a report.
A slowdown at Frito-Lay puts more pressure on Chief Executive Officer Indra Nooyi to shore up the rest of the business, including a beverage division hammered by shifting consumer tastes. Nooyi is scrambling to add more healthful drinks in a bid to win over younger consumers, many of whom are shunning soda.

Through these challenges, Frito-Lay has been "a printing press," said Ken Shea, a Bloomberg Intelligence analyst. The company cited the timing of Easter and delayed tax refunds for hampering results, but it was a weak quarter, he said.
PepsiCo shares fell as much as 2.5 percent after the results were released, though they began to rebound later in the session. The stock, which had been up 9.1 percent this year through Tuesday's close, was down 0.7 percent as of 3:24 p.m. in New York.
The company wasn't the only beverage maker punished by investors on Wednesday. Shares of Dr Pepper Snapple Group Inc. suffered their worst decline since August 2015 after first-quarter sales missed estimates. The stock dropped as much as 7 percent to $91.50.
Calendar Quirks
PepsiCo sees the volume slump as temporary and says demand has begun to bounce back. In addition to the timing of Easter, which occurred too late this year to be counted in the company's first quarter, New Year's came too early. PepsiCo's joint venture with Sabra also brought challenges, Chief Financial Officer Hugh Johnston said on a call with analysts.
"As you see Sabra volume start to come back, you should see improved volume performance," he said. As for Easter and New Year's, "those were temporary factors."
Higher gas prices may have been another factor, Shea said. The average price of U.S. gasoline in the first quarter rose 24 percent from a year earlier. That affects companies like PepsiCo and Altria Group Inc. that rely heavily on convenience stores located in gas stations, Shea said.
"If that translates to fewer visits to the gas stations where a lot of these snacks and impulse items are sold, they've got to be pressured a little bit by that," he said.
Expanding Presence
Nooyi said the trouble in convenience stores, known in the industry as C-stores, could be seen more as an opportunity.
"If PepsiCo's business is overdeveloped in C-stores, we look at expanding in grocery and other channels -- whether it's food service or vending -- as a bigger opportunity," she said on a call with analysts.
PepsiCo's margins also were lower than projected, marring a quarter that had better-than-expected earnings per share, said Andrea Teixeira, an analyst at JPMorgan Chase & Co. The food-and-beverage giant, which sells everything from Ruffles chips to Mountain Dew, posted profit of 94 cents a share, compared with a 92-cent estimate.
"The quality of the quarter was disappointing," she said. "Organic revenue, gross margin and operating margin all came in weaker than we anticipated."
Before it's here, it's on the Bloomberg Terminal.
LEARN MORE