Five Things You Need to Know to Start Your Day
Get caught up on what's moving markets in Asia.
By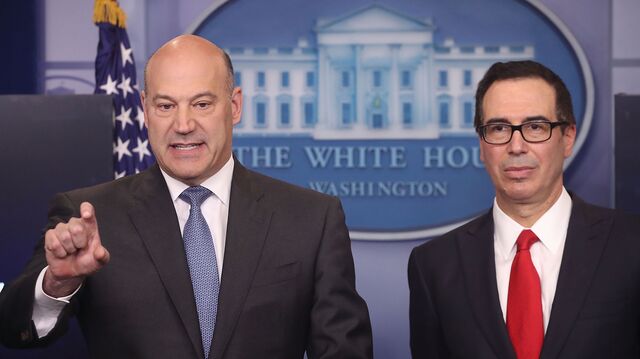 Want to receive this post in your inbox every morning? Sign up here.
Tax announcement fails to excite markets, the Bank of Japan expected to stand pat, and South Korean GDP data due. Here are some of the things people in markets are talking about today.
'Biggest Tax Cut'
U.S. Treasury Secretary Steven Mnuchin and National Economic Council Director Gary Cohn unveiled the broad principles of the White House's tax reform plan on Wednesday, which include cutting the corporate tax rate to 15 percent, a one-time repatriation tax for profits stashed abroad to be brought to the U.S., and a move to a territorial tax system. Many deductions—except for those related to charitable donations and the mortgage interest—would be eliminated, much to the chagrin of residents from high-tax states. Mnuchin had previously said that Republicans in Congress are on board with the framework of the plan, which he suggested will pay for itself by fostering an acceleration in economic growth. However, the new administration's aspirational goal of GDP growth in the area of 3 to 4 percent is looking more difficult to attain.
Central Banks on Deck
The Bank of Japan is almost universally expected to keep its policy rate and 10-year yield targets unchanged in Thursday's decision. Analysts are looking for the central bank to downgrade its inflation forecast while perhaps raising its estimate for economic growth this year. Governor Haruhiko Kuroda is slated to hold a press briefing at 3:30 p.m. Toyko time. Later in the day, the European Central Bank will also release its policy decision.
South Korean Growth
At 8 a.m. Tokyo time, the preliminary reading of first-quarter growth in South Korea is slated to be released. Economists expect a quickened pace of 0.8 percent quarter-on-quarter from 0.5 percent in the final three months of 2016. Despite continued tensions with its northern neighbor, consumer confidence in South Korea has risen close to levels not seen since before the start of the scandal that led to President Park Geun-hye's impeachment. Other data due out: Japanese international securities transactions for the week ending April 21 and Chinese industrial profits for March.
Stocks Shrug
U.S. equities, which had already rallied in anticipation of the U.S. tax details, didn't react much to the news. The S&P 500 Index sold off late in the session to close marginally in the red while U.S. Treasuries advanced. Earlier in the day, reports that the Trump administration was close to scrapping Nafta caused gyrations in a variety of markets, slamming the Mexican peso as well as U.S. firms that earn a hefty portion of their revenue south of the border.
Futures Mixed
S&P/ASX 200 futures were flat as of 5:55 a.m., while Nikkei 225 futures are pointing to a lower open. The yen was one of the better-performing G10 currencies on Wednesday, which is typically a drag on domestic equities. The MSCI Asia Pacific Index will look to build off the prior session's strong performance, which saw stocks close at their highest level since June 2015.
What we've been reading 
This is what caught our eye over the last 24 hours.
Quotes from this Article
Before it's here, it's on the Bloomberg Terminal.
LEARN MORE