Democrats Hit Republican Plan to Exempt Lawmakers From Part of Health Bill
By
Provision would protect lawmakers' care from proposed waiver

Pelosi calls the special treatment in bill 'monstrous'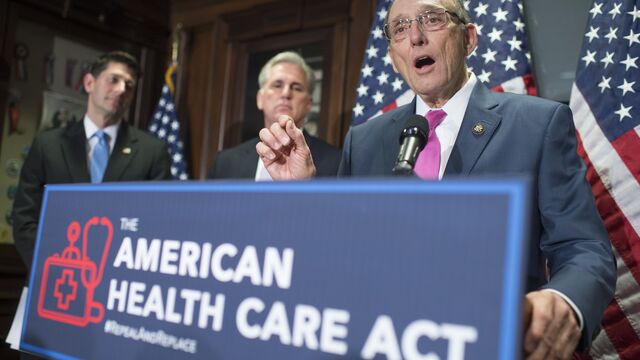 House Republicans trying to craft a health bill compromise want to give states new flexibility to tinker with coverage and how premiums are structured, but a special exemption would treat insurance for members of Congress and their staff differently.
House Minority Leader Nancy Pelosi said the GOP's choice to treat Capitol Hill differently is a "monstrous immorality."
"If House Republicans are afraid of Trumpcare for themselves, they have no right to force it on hard-working American families," Pelosi said.
Republican Representative Tom MacArthur of New Jersey, the lawmaker behind the provision, said he didn't intend for that special treatment. His office says he is taking steps to undo it, as Speaker Paul Ryan and his lieutenants consider whether and when to bring the bill to the House floor for a vote.
At issue is a section of a newly proposed amendment to the Republican bill that would allow insurers to charge higher premiums to people with pre-existing conditions in states that get a waiver, under certain circumstances.
The amendment, negotiated by MacArthur and Mark Meadows of North Carolina, prompted the conservative House Freedom Caucus to formally endorse the revised measure. Conservatives are pleased that it would give states more leeway to decide what works best within their borders.
That is, except when that greater state control might apply to health coverage for the lawmakers themselves and their staff. States wouldn't have the additional leeway for some groups of people whose health premiums might otherwise get costlier under the Republican plan -- including lawmakers and their staffs.
QuickTake on efforts in Congress to repeal Obamacare
Obamacare currently requires all members of Congress and their staff who purchase health coverage to do so on the individual market, just like those who enroll in Obamacare. That requirement was adopted to show that elected lawmakers weren't being given dispensation from something they were requiring of other Americans.
Even some House Republicans said Wednesday they didn't realize that now, under their own Obamacare replacement plan, language to give themselves and their staffers special treatment was being proposed that could exempt them from a state's waiver.
"Exemption? I didn't even know there was one," said Representative Chris Collins of New York. 
"I'm not in Obamacare. I'm not in the exchanges. I'm the spouse on my wife's policy," he added, when pressed about his opinion of the exemption.
Meanwhile, MacArthur on Wednesday tried to distance himself from the exemption.
His office released a statement saying, "Congressman MacArthur does not believe members of Congress or their staff should receive special treatment and is working with House leadership to make absolutely clear that members of Congress and staff are subject to the same rules, provisions, and protections as all other Americans."
A Republican aide who didn't want to be identified said the language in question was added in consultation with the Senate Budget Committee to meet the rules for a budget reconciliation bill, but separate legislation will be introduced to fix it.
Pelosi and others who oppose the Republican bill weren't letting up on what they saw as an inconsistency.
"The monstrous immorality of Trumpcare is perfectly encapsulated in House Republicans' plan to exempt their own health coverage from the damage it will do to everyone else," she said.
Before it's here, it's on the Bloomberg Terminal.
LEARN MORE