markets
Credit Suisse's First-Quarter Equities Slump Drives Trading Miss
By
Equities-trading revenue slumps 22% on decline in derivatives

Fixed-income rebound falls short of analysts' expectations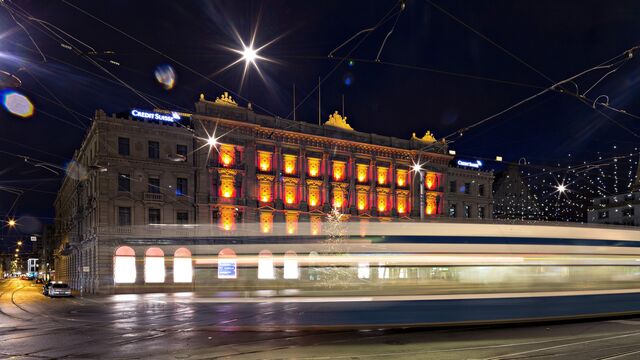 Credit Suisse Group AG, the lender trying to restore confidence in its trading businesses, heralded its first-quarter results as "an improvement," "excellent" and "resilient." Not everyone's convinced. 
Equities trading revenue tumbled 22 percent to 722 million Swiss francs ($726 million), a bigger drop than expected and the worst decline among global investment banks to report first-quarter earnings so far. While bond-trading revenue jumped 30 percent from the year earlier quarter -- when writedowns of distressed bonds wrecked results -- that increase still fell short of estimates from many analysts, including those from HSBC Holdings Plc and Macquarie Group Ltd.
Chief Executive Officer Tidjane Thiam, 54, has sought to steady the bank's trading businesses since taking over in 2015, yet has faced issues from illiquid debt positions he didn't know about to a slumping equities unit that trades based on computer models. In the first quarter, much of the underperformance came from the bank's markets operations in Asia, which posted a pretax loss.
The result in Asia "reflects significantly reduced client activity," Thiam said on a conference call Wednesday. "We have been taking and we are taking active measures to restore profitability in this division to an acceptable level."
Bond-trading revenue was 901 million francs, a 30 percent increase from a year earlier, when the bank took more than 400 million francs of writedowns on distressed debt and other fixed-income positions. Credit trading revenue within its Global Markets unit more than doubled, while fixed-income trading in Asia dropped 74 percent.
Equities Drop
In equities, the drop was driven in part by a decline in revenue from equity derivatives worldwide amid lower market volatility. The five largest U.S. investment banks posted collective stock-trading revenue that was little changed from a year earlier.
"Equities has been really poor," said Chirantan Barua, an analyst with Sanford C. Bernstein Ltd. who recommends investors sell Credit Suisse shares. "They're facing market headwinds, balance sheet constraints and increased competition in their backyard."
Credit Suisse's earning release initially used incorrect figures for its total trading performance. That sowed confusion among some analysts and added complexity to results from a bank that already reports trading results in a different fashion than many peers and frequently restates past revenue figures.
The bank in 2015 separated its trading business in Asia from its Global Markets unit that houses most of the U.S. and European equity and fixed-income operations. The bank still reports the sum of trading revenue from the two groups, which many analysts use to compare the firm's performance to rivals.
"The number of presentational changes in the numbers suggest they haven't got their heads around how all the pieces fit together, which is a bit disconcerting," said Piers Brown, an analyst at Macquarie Group Ltd. with an underperform rating on the stock. "In Asia-Pacific, the strategy hasn't really delivered. There have been so many other things that haven't panned out as expected."
Profit Beat
Even with the revenue disappointment in some areas, deeper cost cuts than expected at the Global Markets unit led that business to post profit of 317 million francs, compared with estimates for a profit of 186 million francs.
Revenue from stock-trading at the global markets business dropped 14 percent on a dollar basis. It only fell 2 percent when the performance of the Systematic Market-Making Group, or SMG, is excluded, the bank said. Credit Suisse moved this unit, which trades on computer models, into its asset-management business after blaming it for a slump in revenue in the third quarter of 2016.
"Revenues were broadly stable year-on-year, which we think is a solid result," Chief Financial Officer David Mathers told analysts on a conference call Wednesday morning.

At Credit Suisse's Asia-Pacific division, equities-trading revenue fell 16 percent to 234 million francs. The Zurich-based lender, one of the world's biggest dealers in Asian stocks, cited lower sales from equity derivatives as a reason for the decline.
"The equity derivatives business is amazingly strong," Thiam said on a conference call with analysts this morning, referring to the Asia-Pacific performance. "In equities, frankly, it's a rightsizing issue. We just need to right-size the business to make sure the returns are commensurate with the capital."
Before it's here, it's on the Bloomberg Terminal.
LEARN MORE