Credit Suisse Ditches Swiss IPO for $4 Billion Cash Call
By
Bank will also eliminate scrip as option for dividend

IPO was too complex, unit too important to income, bank says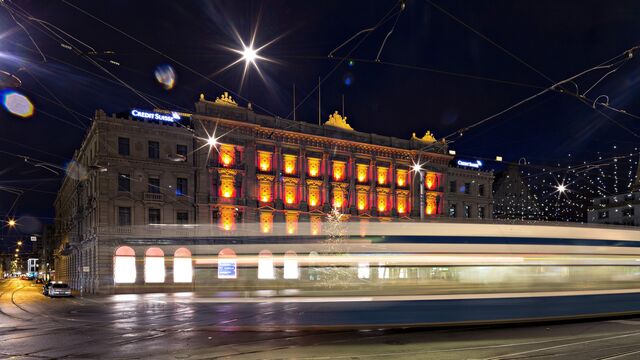 Credit Suisse Group AG Chief Executive Officer Tidjane Thiam bowed to investor pressure by abandoning the sale of the bank's biggest profit generator and said it will instead boost capital through a rights offer.
The bank will raise 4 billion francs ($4.03 billion) from the share sale after dropping plans for the partial initial public offering of its Swiss Universal Bank, ending weeks of speculation on its funding plan, according to a statement on Wednesday. It also posted first-quarter profit of 596 million francs, beating the 336 million-franc average of seven analyst estimates compiled by Bloomberg.
Credit Suisse is in the second year of a turnaround plan to cut back its securities business while expanding in wealth management and is tapping shareholders a second time after raising 6 billion francs in 2015. Thiam said last month that the bank was considering alternatives to the longstanding IPO plan after a smaller-than-expected hit to buffers from a U.S. legal settlement.
"A straight capital increase is less dilutive than the IPO," Thiam said in an interview with Bloomberg Television on Wednesday. "Under normal circumstances, that should be it," he said, referring to the bank's capital measures. Separately, he said that some shareholders had written to the bank urging it to do a rights issue so everyone could participate equally.
Credit Suisse is the third major European bank to sell shares this year after Deutsche Bank AG and UniCredit SpA raised a combined 21 billion euros. The Swiss bank's stock has rebounded from a record low in July, making a sale more attractive, while analysts and investors had questioned the merit of selling part of the Swiss unit, the biggest contributor to profit. The bank also said today that it plans to eliminate scrip as a dividend option and move to all-cash payout.
Look Forward
"I welcome the intention of the bank to raise capital," said Urs Beck, a fund manager at EFG Asset Management, who is holding Credit Suisse and oversees funds with a value of 102 million francs. "Credit Suisse can now look forward and focus on the daily business."
The rights issues allows the bank to concentrate on growth targets, Morgan Stanley analyst Magdalena Stoklosa wrote in a note to clients.
Credit Suisse rose 2.7 percent to 15.71 francs in Zurich trading. The stock has gained more than 13 percent in the past six months as European banks rallied on the prospect that economic growth and rising interest rates could help revive earnings.
Bloomberg reported last month that the bank was considering the sale of stock valued at more than 3 billion francs.
"It's been well-anticipated across the street that they would retain full ownership of their domestic business," said Jefferies analyst Duncan Farr, adding that there results showed positive trends with respect to revenues, asset flows and cost control. "The business is moving towards a better place."
David Herro of Harris Associates, one of the bank's top three shareholders, said his firm intends to participate in Credit Suisse's rights issuance. "We believe this is a far better outcome than listing the SUB and paying a scrip dividend," he said.
Under Pressure
Thiam is under pressure to show that cuts at the bank's global markets division are paying off. Surprise writedowns on risky trading positions contributed to a loss in 2016, prompting him to step up efforts to scale back the unit.
At the same time, the bank is focusing on wealth management because of the potential for steadier revenues. He and top executives offered to give up some bonuses this month after shareholder services firms questioned the payouts after two years of losses. Thiam said the offer, up for a vote Friday at the bank's annual shareholder meeting, was a goodwill gesture and not made under pressure.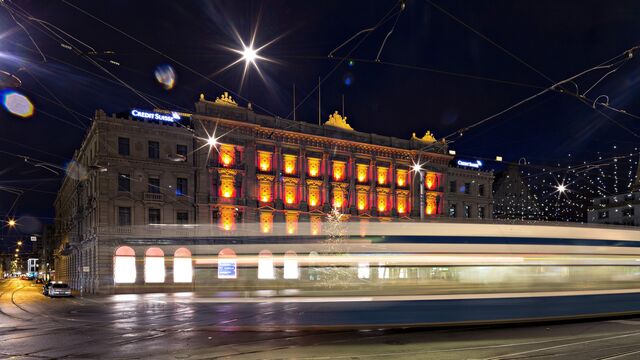 The global markets unit swung to a profit of 317 million francs, driven by credit trading, compared with estimates for a profit of 186 million francs. Pretax profit in international wealth management, which doesn't include Switzerland or the Asia-Pacific region, fell 3 percent to 291 million francs due to lower revenue from transactions and net interest income. Analysts had been expecting a profit of 324 million francs.
Margins fell while the division's private banking arm reported inflows of 4.7 billion francs. The results from international wealth management are "encouraging considering the ongoing debate in private banking around structural challenges to margins," Morgan Stanley analysts said.
The capital increase will bump up Credit Suisse's common equity Tier 1 capital to 13.4 percent of risk-weighted assets. The measure of financial strength was 11.7 percent at the end of the first quarter, up from 11.5 percent at the end of 2016.
Credit Suisse cut 1,400 jobs in the first quarter as part of plans to trim 5,500 positions this year, Thiam said Wednesday.
Allay Concerns
"The capital raise should be enough to allay concerns in the near term but doesn't really give the franchise the flexibility to see it through a downturn or meaningfully compete in global markets," said Chirantan Barua, an analyst at Sanford C Bernstein. "We feel this raise doesn't really take capital totally out of the concern zone."
The bank also said it remains cautious about its short-term prospects.
"Political uncertainties have weighed somewhat on client volumes in the first few weeks of April," it said in the statement. "The outcome for the quarter will be dependent on political developments that are hard to predict at this stage."
— With assistance by Barbara Schmidt, Chris Malpass, and Francine Lacqua
Quotes from this Article
Before it's here, it's on the Bloomberg Terminal.
LEARN MORE