Bankers Issue Fresh Warnings About Brexit Staff Moves
By , , and
Deutsche Bank executive says 4,000 jobs could depart U.K.

Barclays moves to start in months; ICE cites rival incentives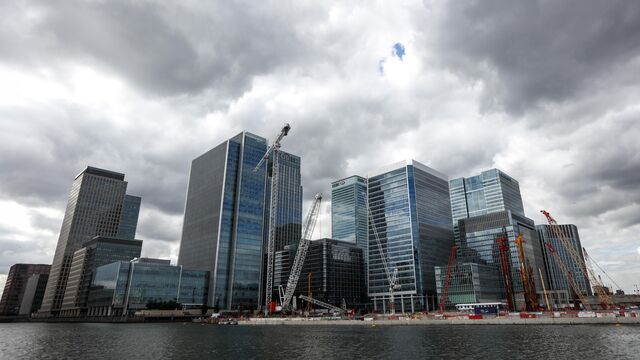 Two of the world's biggest banks reminded London-based staff that some of them will have to start moving abroad because of Brexit, while another finance boss suggested the U.K. is already being out-hustled for business by continental rivals.
Deutsche Bank AG Chief Regulatory Officer Sylvie Matherat said Wednesday that 4,000 U.K. jobs are at risk of being moved, while Barclays Plc Chief Executive Officer Jes Staley said separately that his bank would pull the trigger on its relocation plans within six months. Jeffrey Sprecher, who leads Intercontinental Exchange Inc., said Dutch, French and German officials are courting his firm aggressively.
Britain's negotiations to leave the European Union have prompted global banks to plan bigger hubs inside the EU to secure continued access to clients in the bloc. London could lose 10,000 banking jobs and a further 20,000 roles in financial services, according to the Bruegel think tank, while other estimates range from as little as 4,000 to as many as 232,000 jobs. Derivatives activities governed by EU law are most at risk, while some policy makers on the Continent are adamant that euro clearing will need to leave London.
"For front-office people, if you want to deal with an EU client, you need to be based in the EU," Matherat said at a conference in Frankfurt. "Does it mean I have to move all the front office people to Germany or not? We're speaking of 2,000 people."
To read about surging office inquiries in Frankfurt, click here
More jobs could be affected in associated risk management functions, where another 2,000 people are employed in the U.K., she added. Deutsche Bank has roughly 9,000 employees in the country, including 7,000 in London.
Deutsche Bank's home is Frankfurt, where the local head of office leasing for CBRE Group Inc. said international banks stepped up inquiries about space in the first quarter. Germany's financial capital, in turn, is getting more aggressive about luring companies, according to ICE's Sprecher, CEO of the Atlanta-based powerhouse in derivatives trading and clearing.
Sprecher said that when he talks to U.K. officials, they're light on detail about luring business, but when Dutch, French and German officials approach the company, they're armed with incentives and information about schooling, taxes and office real estate.
'Swagger' Needed
The U.K. should "have a bit of swagger'' given the concentration of financial companies and investment managers who call it home, said Sprecher, whose company operates a clearinghouse in London and previously owned stock market operator Euronext NV, at a London conference addressing the challenges of Brexit.
Staley, who runs a British-based bank, has been adamant that London will remain a financial hub and struck a less concerned note than Matherat. But the Barclays chief still said Brexit will bring changes soon.
For Barclays, "within the next six months you have to start the process" of implementing the bank's contingency plans, Staley said on the sidelines of the London conference. Barclays has settled on Dublin for its expanded EU base and is planning to add only about 150 staff there, people with knowledge of the decision said earlier this year.
"Even minimum changes to the organizational structure take a lot of time," Staley said.
However, Staley predicted that any outflow of bankers from London would be more than offset by the financial-technology firms that are hiring in the British capital. For Barclays, "as of right now I don't see a need for a wholesale movement of people," he said.
Staley, an American who moved to London to run Barclays, was more concerned about the free movement of people given his bank has about 3,000 workers in London with EU passports. "More important than passporting for the finance industry is immigration policy," said Staley.
Immigration Worries
Attracting the brightest students to U.K. universities and allowing them to stay in the country afterward was central to maintaining London's role as as a preeminent financial and tech hub, he added.
Public concern that immigration levels are too high helped sway the referendum vote in favor of Brexit, and Prime Minister Theresa May's government last year announced further restrictions on issuing visas to non-EU students, who have several paths to gain work permits after graduating.
Brexit Secretary David Davis, speaking at the same conference, said that Britain still wanted to attract "the brightest and best" to the U.K. A report prepared by the London Assembly last year estimated that around 11 percent of London's 360,000 finance workers come from other EU countries.
One key decision politicians need to make is whether derivatives clearing can stay in Britain. Credit Suisse Group AG, in a conference call for its earnings report Wednesday, also said it would likely have to increase clearing and transaction activity within the so-called EU-27 nations. Deutsche Bank's Matherat said the same was likely at her firm and she's "concerned" about the bank's U.K. staff.
The day where "one large bank will estimate that it is too late for its own internal process to wait until the decision" on clearing, and decide to move, "then everyone will have to move," she said at the Frankfurt Finance Summit. "We really need clarity."
— With assistance by Stephan Kahl
(
Corrects source of foreign worker data to London Assembly in 16th paragraph. Story was published April 26.
)
Before it's here, it's on the Bloomberg Terminal.
LEARN MORE