Airbus CEO Investigated by Austrian Prosecutors Over Eurofighter
by
Tom Enders among list of individuals subject to the probe

CEO headed defense division at the time of deal in 2003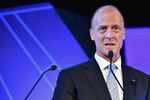 Airbus SE said Austrian prosecutors are investigating Chief Executive Officer Tom Enders as part of a probe into alleged fraud in the 2 billion-euro ($2.2 billion) sale of Eurofighter jets to that country's government in 2003.
Vienna prosecutors on Wednesday informed Airbus that everyone identified in a defense ministry report issued in February -- including Enders -- is under investigation, Airbus said in an email. The report alleged that Airbus knew that the jets wouldn't be available on time in the right configuration and that Austria was overcharged by about 183 million euros for expenses that included lobbying and kickbacks.
"As we have repeatedly stated, we consider the accusations as completely unsubstantiated," Airbus said in an emailed statement. Airbus has previously dismissed the probe as being politically motivated.
Prosecutor Nina Bussek didn't answer calls after office hours. Reuters reported the details of the investigation earlier on Wednesday.
Criminal Inquiry
The prosecutors opened a criminal inquiry in February into whether Airbus deceived Austria's government when it sold the Eurofighter jets. Austria's two largest opposition parties also pushed for the creation of a parliamentary probe into the decision to buy the Eurofighter instead of the Saab AB Gripen.
Enders was the head of the defense division of the group at the time of the sale.
The Austrian defense ministry is itself seeking as much as 1.1 billion euros in damages from Airbus, according to its report
Before it's here, it's on the Bloomberg Terminal.
LEARN MORE