business
Your Evening Briefing
Bloomberg News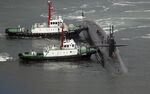 The evening briefing will soon be available in your inbox every day. To be among the first to get it, sign up here.
The U.S. and North Korea are flexing their military muscles again, as tension on the Korean peninsula remains high. A U.S. nuclear-powered submarine arrived in South Korea on Tuesday, as the North reportedly celebrated the 85th anniversary of its army with its largest military firing exercise. All eyes are now watching to see whether Kim Jong Un's regime will carry out a sixth nuclear test. While Donald Trump has refused to rule out any actions, China President Xi Jinping has called for restraint on the peninsula on all sides. The standoff continues. —Alex Millson
Banks are backing out of $1.7 trillion in Chinese investments. A major source of inflows into Chinese markets has suddenly switched into reverse, roiling the nation's money management industry and sending local bonds and stocks to their biggest losses of the year. Banks are pulling back in response to a series of regulatory guidelines on entrusted investments -- funds they farm out to external asset managers -- announced during the past three weeks.
Plans to make Tokyo ''smoke free'' by the 2020 Olympics have been thwarted by lawmakers after fierce resistance from the bar and restaurant industry. Even though just 18 percent of Japanese are smokers, a bill to make lighting up in indoor public spaces, such as schools, hospitals and restaurants, is opposed by about 90 percent of lawmakers in the ruling party.
China's on a quest to dominate the world's robotic future. The country is embracing robotics with the same full-on intensity that's made it a force in high-speed rail and renewable energy. Standing in the way are established robotics superpowers like Japan, South Korea, Germany and the U.S. Yet China has three big advantages — scale, growth momentum and money.
Samsung will roll out Galaxy S8 software updates after screen complaints. The new model started shipping last week, but some buyers who pre-ordered complained of spotty Wi-Fi connections and seeing red-tinted screens. Unlike the battery issue that plagued the Note 7, the problem facing the Galaxy S8 is related to software.
A self-made rebel takes on a $13 billion Japanese giant. Maverick businessman Beji Sasaki is locked in a bidding war with computer giant Fujitsu and says it's just the start of a plan to use takeovers to change Japan Inc. The 61-year-old is setting up a fund backed by Taiwanese money to help ambitious Japanese executives and employees buy out their companies and expand into China and Southeast Asia.
The launch of China's second aircraft carrier, expected as soon as this week, will be an important and depressing moment for India, writes Mihir Sharma. It will give China an edge for the first time in the carrier race with its Asian rival - a literal 2-to-1 advantage. Even more telling than the raw numbers is what China's progress says about India's ability to provide security in its own backyard.
Amazon's Jeff Bezos has just been unseated as the world's second-richest person. As presidential candidate Emmanuel Macron emerged as the front-runner in the French election, Europe's richest got $27.5 billion richer. Spanish retail mogul Amancio Ortega added $2.7 billion to his fortune as markets surged, once again passing Bezos.

Before it's here, it's on the Bloomberg Terminal.
LEARN MORE