markets
WPP Slow-Walks Succession Plans as Sorrell Keeps Board at Bay
By and
Chairman: External search awaits CEO retirement decision

Board last year promised 'rigorous and comprehensive' process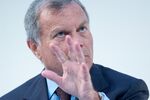 At WPP Plc, the succession elephant is about to re-enter the room.
In the months leading up to this week's annual report, Chairman Roberto Quarta has been meeting with investors in the world's largest advertising company to hear their concerns about planning for life after Martin Sorrell, the only chief executive officer the company has known, eventually departs the scene.
The 72-year-old Sorrell, who founded WPP in the 1980s, is the second-longest serving CEO among FTSE 100 companies and shows no sign of slowing down. Quarta and his predecessor, Philip Lader, have addressed succession gingerly, assuring shareholders in each of the past two annual reports that the board has a "rigorous and comprehensive" process in place yet taking pains not to signal any effort to push Sorrell into retirement.
The topic, never easy for a board, is even touchier at WPP given Sorrell's singular role in transforming the company from a manufacturer of wire shopping baskets to what it is today: An advertising, media-buying and public-relations behemoth with annual revenue of 14.4 billion pounds ($18.4 billion) and agencies like Grey, Young & Rubicam and Ogilvy & Mather. After 31 years at the helm, Sorrell is integral not only to WPP's operation, but also its identity. He's also the biggest individual shareholder, with stock valued at 365.9 million pounds.
"I don't know anybody strong enough to take over from him, and only he knows what's inside the group," said Claire Barbaret, an analyst at Invest Securities in Paris. "Martin Sorrell is the king."

Sorrell, reached by email, said the succession plan is "all clearly laid out in the annual report(s) for several years." The next version is due out on Friday.
WPP and its Paris-based counterpart, Publicis Groupe SA, have been run by the same two men for decades, an almost ironic feat in an industry obsessed with constant transformation, chasing trends and keeping the finger on the pulse of the youthful consumer.
Pulling off a successful transition is essential for WPP and its investors. Changes to the industry have worked to undermine the full-service model Sorrell pioneered at WPP through dozens of acquisitions. Media consumption has shifted away from the traditional ad repositories of magazines, newspapers and TV; automated sales have taken over chunks of the market and propelled online competitors like Google; and big clients like Unilever are cutting back on marketing plans as they rethink their portfolios.
WPP issued a profit warning last month, which caused its shares to fall 8 percent in one day, the most since November 2008. The loss of business with two big clients, Volkswagen AG and AT&T Inc., last year, was also a blow. While WPP has offered mostly positive returns over the years, this year is looking choppier, with the stock down 5.3 percent so far.
Investor Pressure
Investors including including Standard Life Investments Ltd. have called for more transparency on how the board is confronting what former Chairman Lader called the "succession elephant."
Royal London Asset Management Ltd., which has about 100 billion pounds ($128 billion) under management, said it's currently in discussions with WPP about its succession plans, but declined to comment on those conversations.
A fund manager at another firm that is one of WPP's largest shareholders said its discussions with Quarta were useful because they allowed the chairman to express views that can't be written down in the annual report. The investor, who asked not to be named discussing private meetings, wants the succession issue to be resolved before Sorrell slows down or loses interest in the job.

In the 2015 annual report, issued last April, Quarta assured shareholders that the board was focused on identifying potential successors to Sorrell, both inside and outside the company. "Share owners should have no doubt that we already have a strong pool of internal and external candidates to draw from," Quarta said then.
In an email this month, Quarta said the board has identified internal candidates who could step in as CEO in case of emergency. But he said he hasn't discussed retirement with Sorrell, and said the board is waiting for a signal from the CEO before engaging in the type of planned transition that would involve evaluating external candidates.
"We obviously regularly review as a board exactly what steps would be taken and how we would overlay external talent evaluation to our already identified internal talent pool," Quarta said. "The engagement in such a comprehensive process would await a decision regarding the CEO's retirement, whenever that may be."
Sorrell hasn't indicated he wants to move on, nor has a single shareholder called for his removal, Quarta said. Second to Aberdeen Asset Management Plc co-founder Martin Gilbert among longest-serving FTSE 100 CEOs, Sorrell is still firmly in charge at WPP. He recently became a new father and opines regularly on television about world events. In November, he was ranked No. 2 on the Harvard Business Review's list of the world's best-performing CEOs.
"We're very well prepared for an emergency and have strong visibility over internal candidates who could step into the role at short notice," Quarta said.
Investors in public companies want "reassurance that the company board is on top of this material risk," said Andrew Ninian, director of stewardship and governance of the Investment Association, whose members manage over 5.7 trillion pounds on behalf of clients globally. "This means information about how the company is identifying internal and external candidates, what plans are being put together to help develop candidates so they could do the job."
Like Rupert
Guy Jubb, who stood up at WPP's June 2015 annual meeting and criticized the board over its succession shortcomings when he was head of governance and stewardship at Standard Life Investments, said in an interview that directors should provide increasingly intimate insights into the succession-planning process to reassure both shareholders and WPP's 205,000 employees. Jubb, who has since retired, is now an honorary professor at Edinburgh University.
Getting the succession right isn't unique to WPP and Sorrell. Across the Channel, in Paris, the process was messy at Publicis Groupe SA, the Paris-based company where 75-year-old Maurice Levy battled Sorrell for three decades. After much back and forth, Levy is preparing to hand off the CEO job overseeing agencies including Leo Burnett, Saatchi & Saatchi and Bartle Bogle Hagerty, and step into the chairman's role in June.
"Like Maurice, Martin will want to carry on and be involved in this company for a long time, and has said so very clearly," said Richard Pinder, CEO of ad agency Crispin Porter + Bogusky and a former chief operating officer at Publicis.
Sorrell himself recently made a wistful reference to the success of companies run by dominant shareholders, saying they often performed better over the long term, despite corporate structures that run contrary to common standards of good governance.
"Controlled companies like the Murdochs' News Corp. and Fox or the Roberts' Comcast or Zuckerberg's Facebook or Brin and Page's Google or, now, Spiegel's Snap may provide the confidence and stability needed to take the appropriate level of risk," he wrote in a statement with WPP's 2016 results.
Before it's here, it's on the Bloomberg Terminal.
LEARN MORE