quicktake
What the 'Trump Trade' Was and Why It May Be Over: QuickTake Q&A
By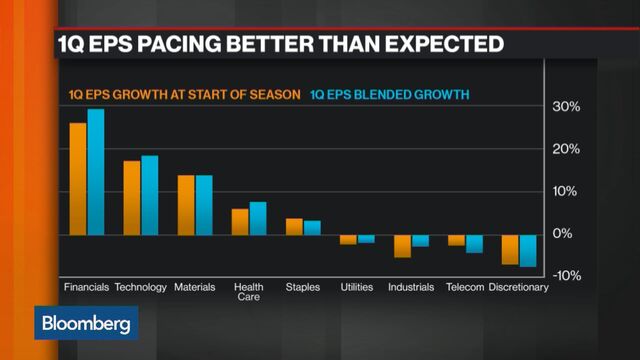 They called it the "Trump Trade" -- the simultaneous surge in U.S. stocks, Treasury yields and the dollar that followed Donald Trump's victory in the U.S. presidential election. Investors had heady expectations for the Republican president and the party's majorities in Congress. Trump's "America First'' agenda included promises to move quickly to cut corporate taxes, loosen reams of regulations and spend $1 trillion on infrastructure, an amount likely to drive up U.S. growth and inflation. There's less excitement in the markets now. Yes, American stocks are within spitting distance of all-time highs, but the rally is being sustained by companies other than ones expected to be big Trump beneficiaries. The U.S. dollar index is up less than 2 percent since Trump's election on Nov. 8, 2016, and the government's 10-year borrowing costs are closer to pre-election levels than their post-election peak. As the president approaches his 100-day mark in office, is the Trump Trade over?
1. What rose after Trump's win?
Within six weeks of Trump's victory, benchmark stock indexes had reached fresh records, the U.S. dollar index gained nearly 6 percent and the 10-year Treasury yield jumped by more than 75 basis points. Among equities, the biggest winners were linked to expectations of a big fiscal boost. Banks would profit from deregulation, the thinking went, and small-cap stocks would gain from corporate tax cuts. The promise of massive infrastructure spending helped shares of select construction and materials companies do better than U.S. stocks at large.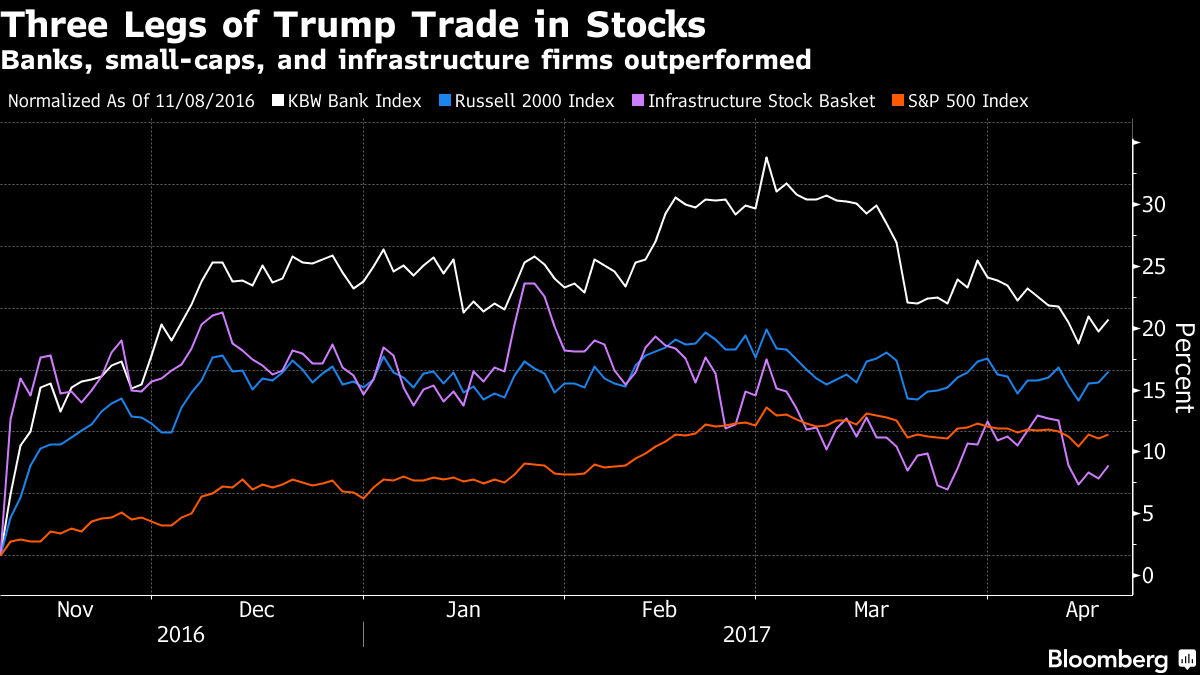 2. What accounted for that optimism?
It looked like the end of political gridlock. The installation of a unified Republican government in Washington, D.C., presumably meant that the pro-growth policies espoused by Trump on the campaign trail could be implemented swiftly. Measures of confidence proceeded to shoot up all over the place, including among consumers and small business owners.
3. Was the bounce all Trump-related?
No. The Trump Trade had huge help from the rest of the world. There was a lot of overlap with what came to be called the reflation trade. Around the globe, economic data came in above expectations in late 2016. At the same time, commodity prices -- most importantly, oil -- were recovering. Stronger growth and higher prices were seen as bringing an end to the long stretch of lower-than-desired inflation that has hampered growth in many countries since the 2008 financial crash.
4. Was the Trump Trade good for everybody? 
No. Trump's fiery rhetoric on trade caused investors to flee emerging-market assets, with the Mexican peso coming under particular pressure in anticipation of U.S. protectionism. And ideas floated by Trump and congressional Republicans for taxes that would have weighed on imports adversely affected U.S. retail stocks. That was reflected in their post-election underperformance.
5. So what soured the Trump Trade?
Inaction, mostly. While Trump and Congress have rolled back some regulations, there's been less concrete progress in Washington than the markets expected. The big winners of the Trump Trade in stocks -- financial services, small caps and construction -- have trailed the broad market since Trump's Jan. 20 inauguration. Reasons include the failure to repeal and replace Barack Obama's health-care initiative, slow progress on tax reform and no sign of an infrastructure plan. Also, it's started to sink in that immigration restrictions being proposed or put in place could be detrimental to economic growth. At the same time, the commodity-based momentum for the Trump Trade has dissipated, with a slump in oil prices leading some to believe inflation may have peaked.

6. Are Trump Trade losers the new winners?
To some degree, yes. Investors have flooded into emerging-market stocks, which are no longer seen as imminently under threat from protectionist measures.
7. What's the outlook?
Big gains in U.S. stocks and government bonds are unlikely without a reversal in the soured sentiment on America's near-term economic outlook. That would mean Trump and Congress making progress on pro-growth initiatives. But a major stock correction isn't inevitable. Wall Street strategists weren't counting on stimulus from Trump to lift U.S. earnings this year, since U.S. corporations generally resisted making assumptions about tax reform in their 2017 estimates for bottom-line performance.
The Reference Shelf
Before it's here, it's on the Bloomberg Terminal.
LEARN MORE