markets
Wells Fargo Board Scrapes Through Election at Tough Meeting
By
Support for 15 directors ranged from 53% to 99% in annual vote

'Why won't they be held accountable?' audience member shouts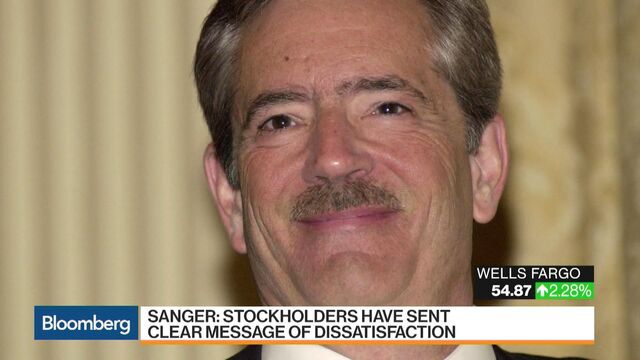 Wells Fargo & Co. board members narrowly survived a shareholder vote in the wake of the bank's account scandal, with some eking out such razor-thin majorities that it may hasten their departures.
At a raucous annual meeting in Ponte Vedra Beach, Florida, investors granted 15 directors support ranging from 53 percent to 99 percent, the company said. The results Tuesday came after tense exchanges, with security officers escorting out one man who shouted questions for several minutes, demanding to know what the board "knew and when you knew it." Other speakers chided the panel's oversight after employees got caught opening legions of accounts without customer permission.
"Wells Fargo stockholders today, I think, have sent a clear message of dissatisfaction," Chairman Stephen Sanger, who drew 56 percent backing for his re-election, told the audience. "The board has recognized that message."
Bank leaders met and called investors in recent days, asking them not to shake up the board as it responds to findings that, for years, employees sought to meet aggressive sales targets by opening bogus accounts. Proxy advisers and California Treasurer John Chiang had urged shareholders to reject as many as 12 of the firm's 15 directors, a move that Chief Executive Officer Tim Sloan said would be "crazy." Critics contend the misconduct went unchecked as the board failed to bolster internal controls.
Weak Support
Shareholder support was lowest for Sanger and some directors on two board committees: The risk panel, which is supposed to help ensure internal controls are effective, and the corporate responsibility panel, which guards the bank's reputation.
Enrique Hernandez Jr., the chairman and CEO of Inter-Con Security Systems Inc., drew 53 percent backing. Federico Pena, who served as both U.S. energy secretary and transportation secretary during the Clinton administration, got 54 percent. Cynthia Milligan, former dean of the College of Business Administration at the University of Nebraska-Lincoln, got 57 percent.
The rebuke caps a seven-month scandal that has also drawn withering criticism from regulators and both chambers of Congress, and prompted the resignation of Sloan's predecessor, John Stumpf.
Last year, no board members drew less than 95 percent support. Weaker backing can accelerate departures.
"Any member of that board who received less than a substantial majority -- and I would say 75 percent-plus -- should consider resigning because it's a significant portion of the shareholders that are giving them a no-confidence vote," Matthew Patsky, CEO of Trillium Asset Management, said in an interview on Bloomberg Television after the meeting. His firm voted against most of the board.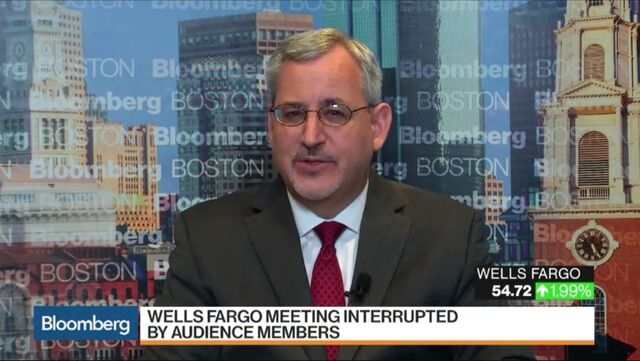 While damages to clients were relatively small -- once calculated at roughly $3 million in fees on unauthorized accounts -- the look inside branches struck nerves. Stories emerged of tellers struggling to hit untenable goals to keep jobs, clients finding mystery dings on credit reports and bosses ignoring -- or even encouraging -- abuses over a decade.
Broad Rebuke
Sanger said in an interview after the meeting that shareholders weren't singling out the performance of specific directors.
"They selected who to vote against based on a variety of reasons, and yet we don't view that as rebuke to any individual member," he said. The board isn't currently considering replacing any members, he said. Still, he suggested some directors might leave earlier than previously planned.
Shares of the bank gained 2.3 percent to $54.86 at 2:35 p.m. in New York. The stock has climbed about 10 percent since regulators fined the company $185 million in September, setting off the scandal. That performance trails the 29 percent advance in the KBW Bank Index of 24 major U.S. lenders.
"It's been a busy seven months, but we are focused on making things right, making real progress, and I'm fully confident we're on the right path," Sloan said Tuesday.
Meeting Interruptions
Early on, the meeting was halted for several minutes after Bruce Marks, an advocate for low- and moderate-income homebuyers, began shouting without a microphone, demanding every director explain what they knew about abuses. Tensions mounted as police officers stepped into the room. Sanger pleaded for him to wait until a question-and-answer session later, but ultimately called for a recess. Security officers escorted Marks out.
As soon as the meeting resumed, more people interjected, needling directors to speak.
"Why won't they turn around? Why won't they be held accountable?" asked Fred Hornbuckle, who said he owns about 500 shares. The board was seated at the front of the room, facing the podium.
Rivals' Scandals
At other banks hit by scandal, low support for directors has prompted exits within months.
After JPMorgan Chase & Co. lost billions of dollars on bets overseen by a trader known as the London Whale, three-quarters of the board's risk committee won less than 60 percent backing at a 2013 meeting. Two of them, David Cote and Ellen Futter, stepped down about four months later. Another, James Crown, who led the committee, is still on the board and the panel.
A vast majority of S&P 500 directors comfortably secure at least 90 percent shareholder support, according to Equilar Inc., which compiles data on corporate governance matters.
However, the data show directors that didn't clear that hurdle have tended to end up with lower approval ratings than in past years, suggesting that there's a more uniform view among investors on what's acceptable and what isn't.
— With assistance by Anders Melin
(
Updates with description of flareups, background on past resignations from 15th paragraph.
)
Before it's here, it's on the Bloomberg Terminal.
LEARN MORE