U.S. Says Canada Lumber Duty Is Part of Trade Enforcer Drive
By
Commerce Secretary Ross says U.S. to initiate more trade cases

U.S. hasn't got Canada plan to counteract lumber duties: Ross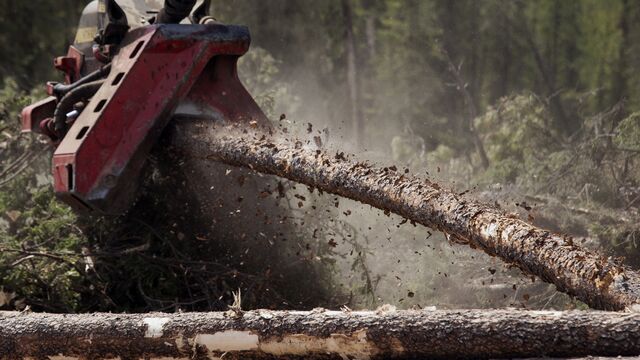 The Trump administration's decision to slap tariffs on lumber imported from Canada should serve as a warning to its partners that the U.S. is planning stricter enforcement of trade laws, Commerce Secretary Wilbur Ross said.
"This administration is much more enforcement-oriented" than the prior one, Ross said in an interview on Bloomberg Television on Tuesday. "Enforcement is very much on the forefront in this administration."
The White House on Monday announced that it's imposing tariffs averaging 20 percent on imports of softwood lumber from Canada, reigniting a decades-old trade dispute. Canada denounced the measure as "punitive" and threatened to sue. On Tuesday, U.S. President Donald Trump heightened tensions by saying he won't tolerate Canada's dairy quotas, which hurt American farmers.
"People don't realize Canada has been very rough on the United States," Trump said during the signing of an executive order to improve life for farmers and ranchers. "I love Canada, but they've outsmarted our politicians for many years. And you people understand that."
The actions darkened a mood of cooperation struck by Trump and Prime Minister Justin Trudeau during his visit to Washington in February, just as the neighbors prepare to revamp the North American Free Trade Agreement that frames a large chunk of their trade. Ross said on Tuesday he's waiting for Congress to approve fast-track negotiating authority, which allows lawmakers to either approve or reject a deal without amendments -- before starting the renegotiation of Nafta, which includes Mexico.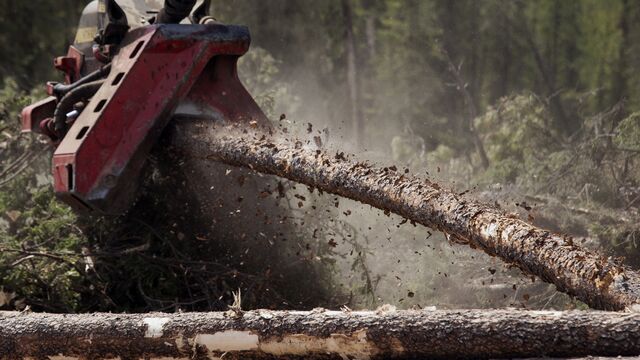 Canada "will vigorously defend the interests of the Canadian softwood lumber industry, including through litigation," Foreign Minister Chrystia Freeland and Natural Resources Minister Jim Carr said. Nonetheless, Canada remains "confident that a negotiated settlement is not only possible but in the best interests of both countries."
Trudeau said in a radio interview that questions on the Canada-U.S. relationship over lumber and dairy are "nothing new" and that he'll deal "firmly and reasonably with them on irritants."
New Ideas
Ross said the Trump administration would be "happy" to discuss any new ideas from Canada, but that nothing was proposed in brief conversations with Canadian officials since Monday's announcement.
The move to impose so-called countervailing duties ranging from 3 percent to 24.1 percent on Canadian lumber producers, including West Fraser Timber Co., is meant to offset what the U.S. describes as federal and provincial subsidies for Canadian lumber producers. The duties collected would amount to about $1 billion a year, marking the second time since Trump entered office three months ago that a fine of that size has been imposed, said Ross.
Last month, ZTE Corp. agreed to pay as much as $1.2 billion for violating U.S. laws restricting the sale of American technology to Iran.
These moves show the Trump administration is looking to push a more muscular enforcement policy going forward, said Ross. The department is embracing a policy of "self-initiation," he said, which includes seeking to take up trade cases that have not yet been initiated by the affected industries. "One of the problems with trade cases is that they take too darn long," often stretching up to two years to resolve, he said.
Ross dismissed concerns that the new tariffs on lumber would increase costs for U.S. homebuyers, saying the impact would be minimal. Softwood lumber amounts to only about 7 percent of the costs of building a house, he said.
"If it added a full 20 percent, that would be a 1.4 percent increase in the cost of building a house," he said. "That's not a very material number."
Lower Expectations
The countervailing duties came in below some analyst expectations. CIBC analyst Hamir Patel forecast the initial combined countervailing and anti-dumping duties could reach 45 to 55 percent, he said in an April 23 note. The U.S. may also apply anti-dumping duties if it determines Canadian firms are selling for below costs. That decision is expected in June.
"It definitely could've been a heck of a lot worse," Kevin Mason, managing director of ERA Forest Products Research, said by phone from Kelowna, British Columbia. "I think a lot of people were bracing for a higher duty."
Ross on Tuesday defended the action as built on a solid case and appropriately tough, affecting $5 billion a year on softwood lumber imports, which are mainly used in the construction of single family homes.
Lumber prices have likely been rising over the the last four months in anticipation of this announcement, according to Robert O'Shaughnessy, chief financial officer of U.S. homebuilder PulteGroup.
"At this point it looks like the market has been expecting this," O'Shaughnessy said on a conference call with investors Tuesday. "Obviously, how it plays out over time can have an influence on our cost structure."
Since the early 1980s, the U.S. has argued with Canada over how much softwood lumber the country's suppliers can sell in the U.S. and at what price. The two nations have negotiated temporary agreements in previous years over softwood, which comes from trees that have cones, like pine or spruce, and is preferred by builders for constructing home frames.
USTR Approval
Robert Lighthizer, Trump's nominee to be the next U.S. Trade Representative, said at his confirmation hearing last month that he views the lumber dispute as the top trade issue between the U.S. and Canada. On Tuesday, a Senate committee approved for his nomination to be sent for full Senate consideration. A final vote on his confirmation could take as few as two weeks.
Lighthizer would join the fray as the battle threatens to escalate further among neighboring countries that normally have one of the friendliest international relationships in the world.
Trump hinted on Tuesday that he'll come to the defense of U.S. dairy farmers, especially those in Wisconsin and New York who he says haven't been able to sell some of their products to Canada. "We're not going to put up with it," he said while signing the order, adding he's not concerned about starting a trade war.
— With assistance by David Gura, Josh Wingrove, Heather Perlberg, and Stephen Wicary
Before it's here, it's on the Bloomberg Terminal.
LEARN MORE