Rosenstein Confirmed to Lead Russia Probe as Deputy to Sessions
By
Democrats join Republicans in praising Rosenstein's integrity

Prosecutor from Maryland could decide to name special counsel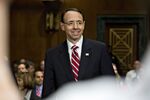 Rod Rosenstein was confirmed by the Senate as deputy attorney general, making the federal prosecutor the new face of the U.S. investigation into Russia's meddling in last year's presidential election and whether anyone associated with President Donald Trump played a role.
Rosenstein's nomination was approved Tuesday by the Senate in 94-6 vote. At the top of his agenda will be overseeing the Justice Department's Russia hacking investigation -- or deciding whether to name a special counsel to handle the probe because Attorney General Jeff Sessions has recused himself from the inquiry.
"He has a well-known reputation for independence," Republican Senator Chuck Grassley of Iowa, chairman of the Judiciary Committee, said on the Senate floor before the vote. "From all I see and know about him, I believe Mr. Rosenstein will keep his promise for integrity and independence."
While most Democrats voted for Rosenstein, Senator Richard Blumenthal of Connecticut opposed the nominee because he didn't commit during the confirmation process to appoint a special counsel. Blumenthal told reporters on Tuesday that the need to do so is all the more apparent after new revelations that Trump's former National Security Adviser, Michael Flynn, may have violated U.S. law by failing to disclose his business dealings with Russia and Turkey.
'Powerful Reminder'
"It is a very powerful reminder that there's mounting evidence of criminal wrongdoing in connection with Russian meddling and potential collusion between Trump associates and Russian wrongdoing," Blumenthal said. "And the case for an independent special prosecutor is simply undeniable at this point."
Rosenstein's only public comment on the matter came during his confirmation hearing in March, when he said he'll wait to make a decision until after he's confirmed and is fully briefed on the investigation.
Rosenstein will be guided by a 1999 federal regulation in deciding whether to turn over the politically sensitive inquiry to a special counsel.
According to the regulation, a special counsel should be appointed when it's determined that an investigation or prosecution by a U.S. attorney's office or division of the Justice Department "would present a conflict of interest for the Department or other extraordinary circumstances" and that "under the circumstances, it would be in the public interest to appoint an outside Special Counsel to assume responsibility for the matter."
A person named as special counsel "shall be a lawyer with a reputation for integrity and impartial decisionmaking, and with appropriate experience to ensure both that the investigation will be conducted ably, expeditiously and thoroughly, and that investigative and prosecutorial decisions will be supported by an informed understanding of the criminal law and Department of Justice policies," the regulation states. "The Special Counsel shall be selected from outside the United States Government."
Top Democrats, including Senate Democratic Leader Charles Schumer of New York and Richard Durbin of Illinois, voted to confirm Rosenstein even though they, too, want a special counsel.
Read about twists and questions in the Trump-Russia saga -- a QuickTake Q&A
If he doesn't appoint a special counsel, Durbin said, responsibility will fall squarely on Rosenstein. "I hope he'll be willing to speak truth to power and stand up to the president and the attorney general as necessary," Durbin said.
Rosenstein will pick up oversight of the Russia probe from Dana Boente, a U.S. prosecutor in Virginia who has been filling in as acting deputy attorney general. Sessions recused himself from the investigation in March after failing to disclose he had met twice last year with Russia's ambassador to the U.S., Sergey Kislyak.
While Rosenstein was nominated to be deputy attorney general by Trump, he has more than 25 years' experience working in the Justice Department through Republican and Democratic administrations. The 52-year-old has served as U.S. Attorney for Maryland since 2005 after being picked for the post by former President George W. Bush.
'Unmasking' Agents
U.S. intelligence agencies have found that Russia hacked into Democratic emails and leaked them last year in an effort to hurt Democratic candidate Hillary Clinton and ultimately to help elect Trump. FBI Director James Comey told a congressional committee in March that the investigation includes "the nature of any links between individuals associated with the Trump campaign and the Russian government and whether there was any coordination between the campaign and Russia's efforts." Russia rejects the accusations.
Some Republicans are countering that the investigators should focus instead on whether former President Barack Obama's administration improperly "unmasked" and leaked information about people close to Trump that was obtained in legal foreign surveillance.
— With assistance by Steven T. Dennis
Before it's here, it's on the Bloomberg Terminal.
LEARN MORE