Robert Durst's Wife Allegedly Tried to Escape Him in Pajamas
by
New York City police detective recalls interviewing neighbors

Couple cited saying Kathie crawled into their window in fear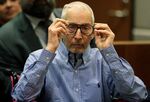 New York real estate heir Robert Durst's wife was so afraid of him before she disappeared 35 years ago that she climbed out the window of their Manhattan apartment in her pajamas and in through the neighbors' bedroom window, a retired police detective testified.
Kathie Durst told the neighbors "Bob had beat her and wanted to kill her" and had a gun, James Varian, the detective, said Tuesday in Los Angeles state court. The judge must decide whether to send Durst to trial for allegedly murdering a confidant in 2000 because she knew too much about the disappearance of Kathie Durst, who was never found.
Varian, who served on a task force in 1982 investigating what happened to Durst's wife, was questioned by Los Angeles prosecutors as part of conditional examinations that can be used at trial should the witnesses not be available to testify in person.
Durst, 74, who currently is serving an 85-month sentence for being a felon in possession of a firearm, has pleaded not guilty to the murder of his longtime friend Susan Berman.
Prosecutors have asked to bring witnesses to court well ahead of trial because they fear Durst, who they say is worth as much as $100 million, could still pose a threat to their safety from his prison cell. In February, Nick Chavin, an old friend of Durst from New York, testified that Durst had said to him that he "had to" kill Berman.
One Day
Varian testified that he only worked on the investigation for one day but he said under questioning by Deputy District Attorney John Lewin that he could still recall the interview with the neighbors because of the unusual story about Kathie Durst going window to window.
The neighbors also cited Kathie Durst telling them that Durst had wanted her to relinquish her rights to their property and that she had been so scared of him that she had been hiding in the bathroom for hours, Varian said.
The detective also told the judge that, according to what the couple told him, the husband went over to the Dursts' apartment and Robert Durst said he wasn't mad and denied hitting Kathie.
'Beverley,' 'Jinx' and Durst's Feared Wrath: QuickTake Scorecard
Durst was arrested March 14, 2015, at a hotel in New Orleans where he was staying under a false name. The arrest came the day before HBO showed the final episode of "The Jinx: The Life and Deaths of Robert Durst," in which Durst, unaware he's still being recorded, mutters to himself, "What the hell did I do? Killed them all, of course."
Durst was never charged in connection with the 1982 disappearance of Kathie Durst. A Texas jury acquitted him of the 2001 murder of his neighbor in Galveston, where Durst had rented an apartment posing as a mute woman. Durst testified at trial that he accidentally shot the neighbor -- Morris Black -- while struggling for a gun. He then cut up Black's body and dumped the parts in Galveston Bay.
'The Jinx'
Berman was found shot to death at her Los Angeles home, shortly after New York state police reopened the investigation of Kathie Durst's disappearance. A note was sent to Beverly Hills police that there was a "cadaver" at her address. In the final episode of "The Jinx," Durst is confronted with the envelope of a letter he sent to Berman that has the same handwriting and the same misspelling of "Beverley Hills" as the note sent to police.
Chavin, in his February testimony, said Berman had told him after Kathie Durst's disappearance that Durst had killed her and that they "had to protect Bobby." Berman, Chavin and Durst were close friends at the time and Berman served as Durst's spokeswoman after his wife's disappearance.
Chavin also testified that Durst said to him after a dinner in 2014 when they were talking about Berman, "It was her or me. I had no choice."
Riverside Drive
A second witness brought in for conditional examination Tuesday worked at the Riverside Drive apartment building where Robert and Kathie Durst lived.
Rafael Prado said he operated the lobby elevator the night of Jan. 31, 1982. That was the date Kathie Durst was last seen alive and Robert Durst claimed she took the train from their house in upstate New York to Manhattan.
Prado said he never saw Kathie Durst return home that night.
Durst's lawyer Dick DeGuerin challenged Prado's testimony that another building employee, who worked the midnight shift and is now deceased, was often intoxicated and not reliable. That employee had told police in the initial investigation into Kathie Durst's disappearance that he taken her and an unidentified man up to her apartment.
Prado said that employee, Eddie Lopez, was nicknamed "50/50" because you could only believe half of what he said. Just a few days after Lopez told police that he had seen Kathie Durst early in the morning of Feb. 1, he was no longer sure it was her, according to Prado.
Hypnosis Questioning
DeGuerin said Lopez had given the police more than one consistent statement and was also questioned under hypnosis.
Miriam Barnes, a good friend of Susan Berman, was the third witness to testify.
She said Berman asked her to come to her apartment when Kathie Durst disappeared.
"She said, 'I need to tell you something but I need you not to ask me any questions,'" Barnes testified.
Berman told her she had done something that day for Bobby.
"If anything ever happens to me, Bobby did it," Berman told Barnes.
Barnes said Berman never told what she had done for Durst.
The case is the People v. Durst, SA089983, California Superior Court, Los Angeles County.
Before it's here, it's on the Bloomberg Terminal.
LEARN MORE