May Says She's Not Complacent as Campaign Rolls Into Labour Backyard
By
Prime minister warns that polls showing Tory lead may be wrong

Election choice between strong leadership and chaos, May says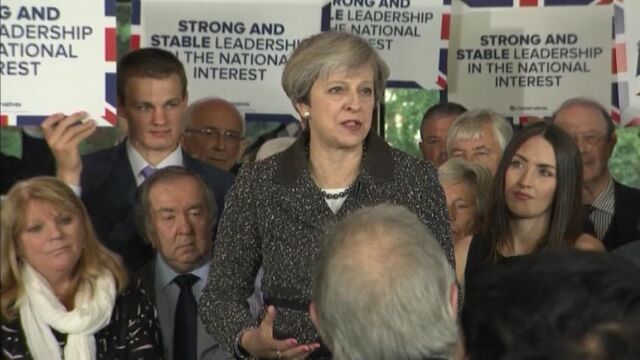 For Prime Minister Theresa May, a poll showing she's on course to win the traditional Labour stronghold of Wales for the first time in 100 years was to be taken with a pinch of salt.
The impression of total dominance could be a problem for the Conservatives and the premier traveled to Wales Tuesday to warn Tories against complacency. Her strategists fear that if voters think she can't lose, casting a ballot for her main rival, Jeremy Corbyn's Labour Party, becomes a cost-free option.
Contrasting her plan for Britain with a threat of "weakness" and "chaos" under Corbyn, May told supporters not to believe polls that put her more than 20 points ahead.
"Make no mistake. It could happen. Remember the opinion polls were wrong in the 2015 general election. They were wrong in the referendum last year," May said in a speech in Bridgend. "We will be out there working for every single vote because this is an election in which every single vote counts."
The fact May made a high-profile campaign stop on Tuesday in Bridgend, a seat Labour has held for the past 30 years, shows she's confident of her prospects for the June 8 election, but over-confidence is one of the "major risks", according to Philip Cowley, professor of politics at Queen Mary University of London.
Chaos Coalition
"It may make some people worry that she'll get too big a majority -- it may trigger an underdog sentiment," Cowley said. "It allows Labour MPs to say 'you can keep me to look after your local patch, try to keep the Tories in check,' but with no danger of actually having a Labour government."
Britons are being called to the ballot box for a national vote for the third time in as many years, further raising the risk of voter apathy. The election is being fought over the terms of Brexit and May is seeking a fresh mandate that will give her more room for maneuver in talks.
Wales voted to leave in the referendum last year, even though it has been a major beneficiary of European Union funds. During her visit to Bridgend, May underlined her message to voters not to underestimate the danger posed by Corbyn's Labour.
"A vote for any other party would be a vote for a weak and failing Jeremy Corbyn, propped up by a coalition of chaos, which would risk our national future," May said.
'Mandate to Fight'
The prime minister repeated her appeal to voters, saying every vote for the Conservatives would strengthen her position in Brexit negotiations by giving her "a mandate to fight for Britain." She has a clear strategy to deliver the deal Britain needs in contrast to Labour, which put forward "its seventh Brexit plan" on Tuesday, she said. 
According to a YouGov poll for ITV Wales on Monday, the Conservatives are on course to win 40 percent of votes in Wales, compared with 30 percent for Labour, taking 21 of the 40 Welsh seats in the U.K. Parliament.
"For once, words like sensational and unprecedented do not seem out of place," said Roger Scully, professor of politics at Cardiff University, said in a blog post. "Wales has been Labour for longer than any voter taking part in these elections can possibly remember. We could be just over six weeks from that near-century of one-party dominance coming to an abrupt end."
It was during a five-day walking holiday in the Welsh mountains earlier this month that May made the decision to call a snap election. When she stood outside her London home and shocked British politics with the announcement, May wore a silver ring made by a local Welsh artisan that she'd bought during her vacation.