May Benefits as Britain's Pro-Brexit Party Loses Supporters
By
Polls suggest voters deserting UKIP for the Conservatives

Tory strength could mean tactical voting is pointless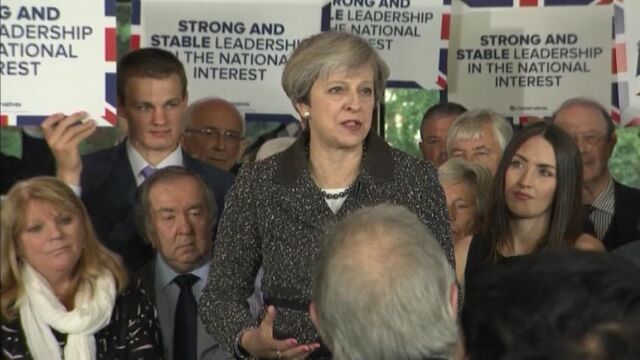 The party that pushed the U.K. towards Brexit is collapsing, and the main beneficiary is Prime Minister Theresa May.
The U.K. Independence Party gained 13 percent of the vote in 2015, moving into third place. But since achieving its goal, a referendum vote for Britain to leave the European Union, it has struggled to find a purpose. It's only member of parliament left the party, and even its leader -- the third in 12 months -- won't say if he's going to stand in the election. 
Polls suggest voters are responding by abandoning UKIP. Over the weekend, they showed it on course to get between 5 and 11 percent in the June 8 election. Even the best of those polls found support for the party falling. It is May's Conservative Party that's benefiting.
"The UKIP vote is going to the Tories," John Curtice, professor of politics at Strathclyde University, told reporters in London. "That's the story of the first week of the campaign."
There has been talk from Brexit opponents of urging voters to support the candidate in their district who will promise to block Britain's departure from the EU, but according to Curtice, polls showing Tories picking up close to half the national vote render that pointless.
"Once you've got 50 percent of the vote somewhere, tactical voting against you won't make a lot of difference," he said.
Before it's here, it's on the Bloomberg Terminal.
LEARN MORE