markets
Lilly Diabetes Drug Jardiance Falls Short
By
Jardiance misses predictions, but top-selling Humalog beats

Full-year sales forecast range trails; shares decline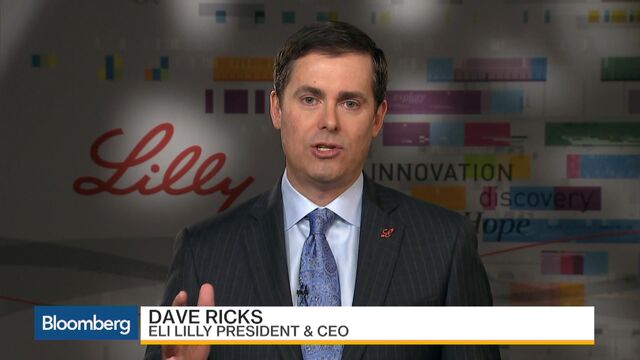 Eli Lilly & Co.'s promising diabetes drug Jardiance fell short last quarter, a sign of the major challenges ahead for its new chief executive officer after recent setbacks on other potential new treatments.
Jardiance's first-quarter sales, at $74 million, were well below the $93.6 million average of analysts' estimates. The shares dropped 2.6 percent to $81.29 at 9:39 a.m. in New York.
For new CEO David Ricks, who succeeded John Lechleiter at the start of the year, 2017 is shaping up as more challenging than might have been expected a few months ago. Jardiance's shortfall may be further evidence of the price pressure manufacturers of diabetes treatments are facing. And after the recent experimental setbacks, Lilly is more reliant on existing treatments to fuel future growth.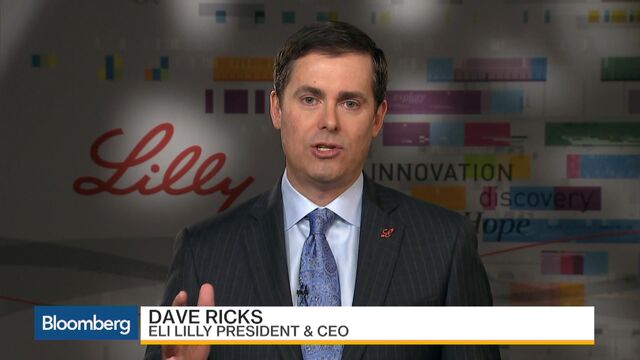 Two other new treatments, cancer drug Cyramza and diabetes treatment Basaglar, also came in lower than predicted last quarter. But there were some bright spots in the results released Tuesday. Jardiance is still growing fast, with sales doubling in the first quarter. Insulin product Trulicity gained market share and skin treatment Taltz surpassed estimates.
New Products
"As we return to growth, we're really counting on strong performance from our new products," CEO Ricks said in an interview on Bloomberg Television. "We're riding those to success."
Diabetes has long been part of Lilly's strategy: Its top-selling product is insulin drug Humalog. But immunology and oncology are central to the company's future, the CEO said.
Pressure on diabetes drugs' prices has been hitting pharmaceutical companies recently, and Johnson & Johnson reported a sales slump for its Invokana last week. Still, the disease remains a major source of revenue for drugmakers, and analysts expect Lilly's Jardiance to become a blockbuster, surpassing $1 billion in sales by 2019.
Drug Delay
First-quarter earnings were 98 cents, excluding some items, Indianapolis-based Lilly said in a statement, beating the 96-cent average estimate. Top-selling Humalog helped boost revenue with sales rising 17 percent to $708 million, higher than the average of analysts' predictions compiled by Bloomberg. For the full year, the company revised earnings-per-share forecasts to include severance expenses.
This month, the U.S. Food & Drug Administration rejected a rheumatoid arthritis treatment Lilly is developing in partnership with Incyte Corp., and requested more evidence about dosage and potential safety concerns. Analysts said the decision could delay the drug's introduction by a couple of years, a blow for a treatment they had predicted could generate more than $1 billion in annual sales by 2020. Lilly also suffered a setback last November when experimental treatment solanezumab failed to slow the progression of Alzheimer's disease.
Bright Spots
Lilly did get some good news this week, with positive results from a late-stage trial in breast cancer drug abemaciclib. The product could be a potential competitor to Pfizer's blockbuster drug Ibrance and Novartis's Kisqali, which recently received U.S. regulatory approval.
Lilly's growth is becoming increasingly focused on Trulicity, Jardiance, skin treatment Taltz and the cancer experimental drug abemaciclib, Jeffrey Holford, an analyst at Jefferies LLC who rates the shares buy, wrote in a note to clients. Diabetes treatments Basaglar, Jardiance and Trulicity are set to drive a $4.6 billion increase in sales from 2016 to 2021, according to Bloomberg Intelligence.
In the TV interview, CEO Ricks said Lilly is watching policy that may come from lawmakers in Washington, including tax reform promised by President Donald Trump, along with changes to the Obamacare health law, the FDA and drug pricing. It's unclear what Trump's plans are for bringing down drug costs, Ricks said. Changes could impact Lilly, which relies on the U.S. for more than half its revenue, the CEO said.
"I don't know exactly what he has in mind," he said.
The company remains committed to bringing down operating expenses to 50 percent of revenue or less by 2018. Operating costs were 53 percent of revenue in the first quarter.
(
Updated with shares in and comments from CEO beginning in fifth paragraph.
)
Before it's here, it's on the Bloomberg Terminal.
LEARN MORE