Key Adviser to Korea Front-Runner Says Extra Budget Needed
By and
Korea needs expansionary fiscal policy, adviser says

Moon leading in polls two weeks ahead of presidential election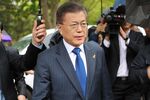 Contrary to government suggestions, South Korea needs an extra budget because recent economic strength could falter and trade tensions with China are likely to continue, according to a key adviser to presidential front-runner Moon Jae-in.
Recent export growth has been concentrated in a few sectors, such as semiconductors, and the improvement hasn't been felt in other industries or among consumers, said Kim Sang-jo, a professor at Hansung University who counsels Moon on economic policy. The fiscal policy of former President Park Geun-hye's administration has been too tight and Moon will plan more fiscal spending, Kim said in an interview on Tuesday.
Kim's comments came after Finance Minister Yoo Il-ho told reporters over the weekend that a supplementary budget may not be necessary because recent economic data have been positive. 
Kim said the economy would grow about 0.9 percent in the first quarter from the previous period, but the pace will slow in the second quarter as the impact of China's retaliation over the installation of a missile defense system materializes. 
The former executive director of the community group Solidarity for Economic Reform joined Moon's camp in March. He said he would be in charge of making policies related to the nation's chaebol, or family-run conglomerates, if Moon is elected on May 9.
Household Debt

Kim said the extra budget, expected to be about 10 trillion won ($8.87 billion), could be done without issuing bonds, using leftover tax revenue from last year and excess revenue expected this year. He said fiscal spending should increase by at least 5 percent every year.
If it is necessary to adjust tax rates, the priority would be raising the "minimum" rate for companies, and wider changes that apply to the public would take place only after a political consensus was reached, according to Kim.
Kim said one of the biggest risks facing Korea's economy is household debt, which reached a record 1,344.3 trillion won ($1.2 trillion) at the end of 2016. To prevent it from becoming a greater threat, the pace of growth needs to be kept below that for income, Kim said. Households' disposable income grew only 4 percent in 2016, while debt grew almost 12 percent. 
One way to curb debt expansion would be for the government to coordinate with the central bank to send a signal on the direction of monetary policy, which is likely to be tightening, rather than easing, Kim said. This signal would prompt households to gradually cut back on their debt, Kim said.
"If fiscal policy becomes expansionary, I don't think it would be appropriate for monetary policy to also be expansionary as that could make the situation uncontrollable," he said. "The main problem for household debt is not a full-scale default, but lower-income households being unable to repay interest, becoming socially discontent, and dragging on domestic demand."
Chaebol Reform
Moon, a member of the left-leaning Democratic Party of Korea, captured 41 percent support in the latest Gallup survey, compared with centrist Ahn Cheol-soo's 30 percent.
Kim has been long known in Korea for his calls to reform the chaebol.
Responding to worries raised by some of Korea's conservative media that Moon's chaebol policies may hurt business activities, Kim said his reform plans won't target specific conglomerates or be too restrictive.
"I've suggested that if elected, Moon should put a priority on appointing the chairman for the National Pension Service, and give that person a mandate to adopt and actively implement the stewardship code," Kim said, referring to a guideline for institutional investors to participate in voting as shareholders. By this, the NPS can lead other institutional investors to prevent inappropriate mergers like that between Samsung's affiliates, Kim said.
Kim also called for an update of the Fair Trade Commission's regulations and a more thorough execution of the regulator's rules on companies' activities.
Before it's here, it's on the Bloomberg Terminal.
LEARN MORE