A Shopping List For Investors Piling Back Into European Stocks
By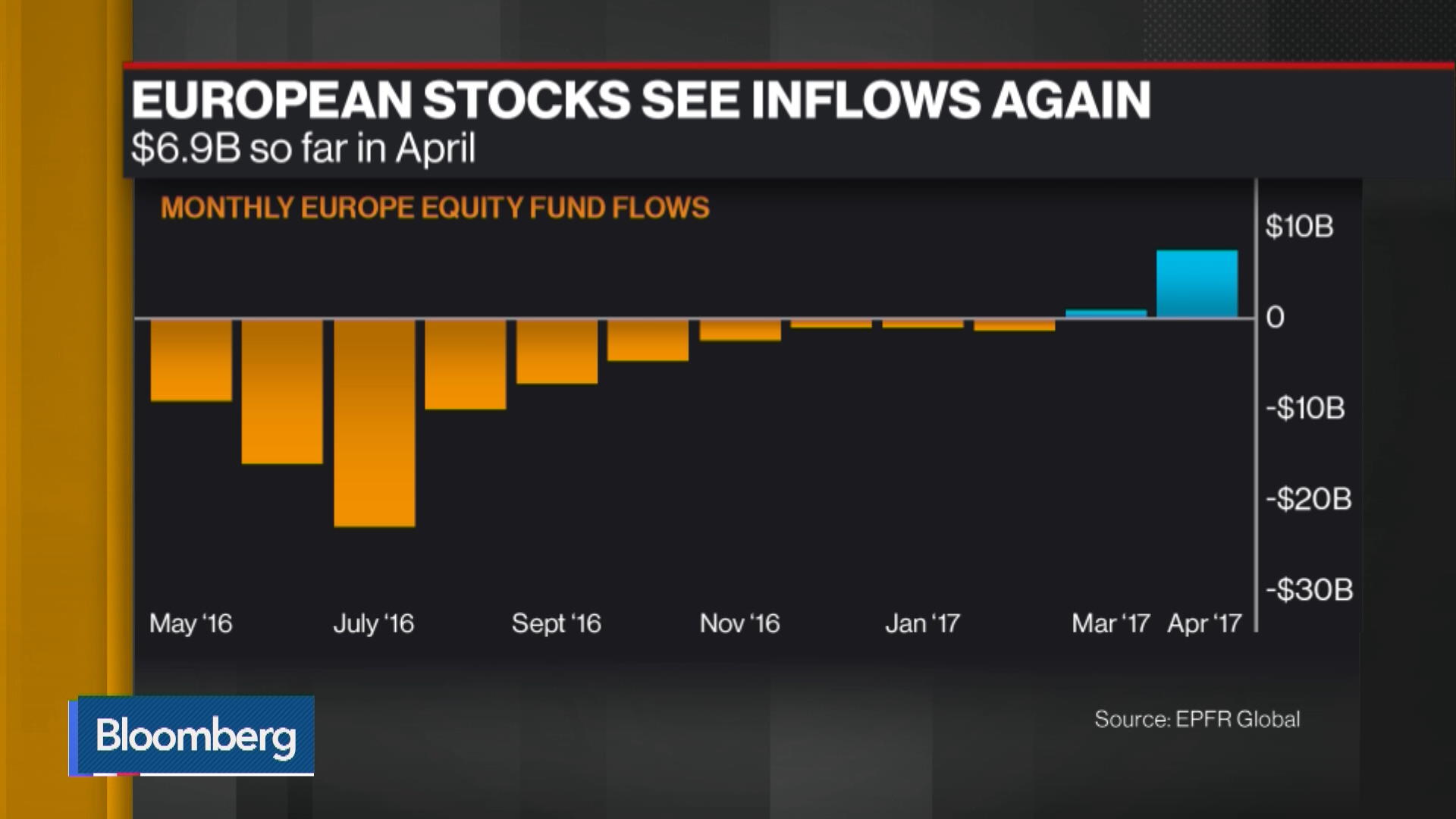 Investors roaring back into European equities may find buying cues in what worked the last few times money came pouring in.
Banks, the region's biggest winners after the weekend French vote dispelled worries about threats to euro-area stability, will likely continue to outperform if history is any indication. Also on the list, according to Barclays Plc: carmakers, transport companies, value stocks, small- and mid-cap shares and equities from Italy and Spain.
Those are the industry groups and countries that have benefited the most in the previous five periods that saw strong inflows into European equity funds, strategists led by Dennis Jose wrote in a note Tuesday. Foreign investors pouring in money will be the key driver for the next leg of stock gains in the region, they said.

The trend has begun, with such funds attracting inflows of $6.9 billion in April after they saw redemptions of $113 billion last year, according to EPFR Global data. Shares most reliant on growth, as well as the riskier southern European equities surged on Monday as investor focus swung back toward the region's economic recovery and earnings rebound. Polls indicate a victory for centrist Emmanuel Macron in the final round on May 7.
"A reduction in risk premia, combined with an end to the seven-year stagnation in European earnings should drive inflows into European equities," Barclays strategists wrote in the note. "We envisage the coming months to resemble the previous periods of heavy inflows into European equities relative to other regions."
Banks, among the winners in such instances, are currently trading near their cheapest prices relative to U.S. peers since 1980, according to the strategists.

In the five bouts of strong inflows that Barclays analyzed going back to 2003, the biggest losers were defensive shares including drugmakers, consumer staples, technology and energy firms, quality stocks. Also underperforming, equities from the U.K. and Switzerland, perceived as safer bets amid political and economic risks in the euro area in recent years.
Benchmarks in Germany and the U.K. have climbed to fresh records in 2017, even as those in Italy and Spain stay well away from highs seen before the global financial crisis. While the FTSE MIB Index is up 5 percent this week, the best performer among developed markets, it remains 53 percent below its 2007 peak.