Five Things You Need to Know to Start Your Day
Get caught up on what's moving markets.
By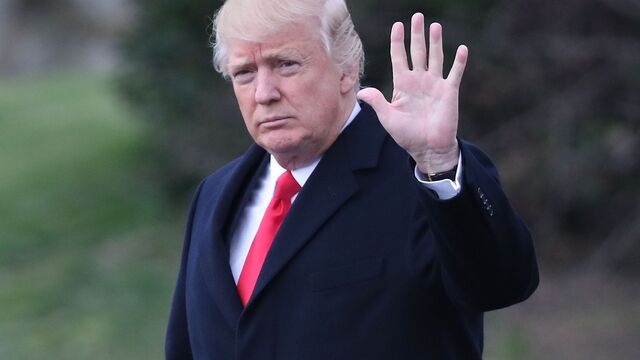 Want to receive this post in your inbox every morning? Sign up here.
Trump's tax plan, tensions in Korea, and oil holds under $50 as producers look to extend cuts. Here are some of the things people in markets are talking about today.
Tax cut
President Donald Trump is due to announce the broad outline of his plans for changes to the U.S. tax code on Wednesday. He will seek to lower taxes from individuals and cut the corporate tax rate to 15 percent, according to a White House official. The president signaled that he may be willing to wait a little longer for federal funding for his controversial border wall, which may allow Congress to finish work on spending legislation in time in order to avoid a government shutdown. He also intensified a dispute at the U.S.'s northern border with the announcement of an import duty of up to 24 percent on softwood timber imports from Canada. 
Flexing muscles 
Tensions in the Korean Peninsula continue to simmer as Kim Jong Un's regime conducted the country's largest-ever live fire exercise, while the nuclear-powered USS Michigan, one of four Ohio-class guided-missile submarines capable of launching cruise missiles, made port in South Korea. Chinese President Xi Jinping called for restraint in a phone call with President Trump, while the White House is due to hold a briefing with senators tomorrow on the issues.
EU hardball
European Union governments are toughening their negotiating positions on Brexit, placing explicit demands on residency rights and limits on financial services to their plan. Another pothole has emerged on the road to a deal as Britain reportedly faces a 2 billion-euro ($2.17 billion) charge over customs fraud it will have to settle ahead of any Brexit agreement. On the election trail, Theresa May's Conservative Party is said to be targeting opposition Labour Party held seats that voted in favor of leaving the EU in last year's referendum. 
Markets hold gains
Overnight, the MSCI Asia Pacific Index rose 0.7 percent, while Japan's Topix index added 1.1 percent. The Shanghai Composite Index stabilized after yesterday's selloff. In Europe, the Stoxx 600 Index was 0.2 percent higher at 5:38 a.m. Eastern Time, with Christian Dior SE jumping 12 percent after French billionaire Bernard Arnault offered to buy the shares in the firm he does not already control in a $13 billion deal. S&P 500 futures gained 01. percent. 
Oil under $50
A barrel of West Texas Intermediate for June delivery was trading at $49.49 at 5:45 a.m. as the commodity ended a six-day slide to under $50 a barrel. In a month's time, OPEC and its allies will meet to decide whether to prolong the production cuts that have delivered lower output -- without lifting prices -- this year. One of the stumbling blocks to that agreement may be Russian producers who plan to increase output in the second half of this year. 
What we've been reading 
This is what's caught our eye over the last 24 hours.
Before it's here, it's on the Bloomberg Terminal.
LEARN MORE