Draghi's Stimulus Could Blunt Populism as Unemployment Falls
By
Lower joblessness undermines calls to break up currency bloc

Deep-seated resentment of elites still a political flashpoint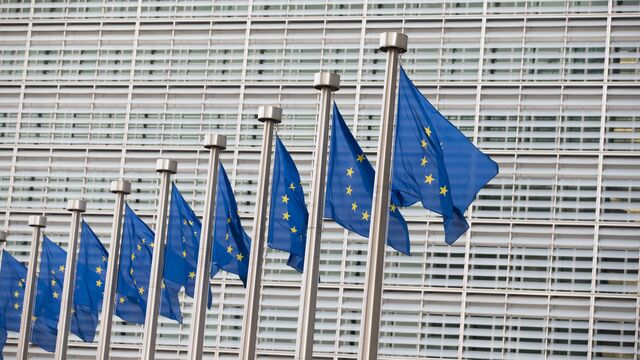 Mario Draghi's stimulus didn't prevent the rise of populists who want to reject the euro, but it might be taking the edge off the economic pain that fueled their support.
The European Central Bank president has pushed through measures that have led the currency bloc out of a double-dip recession and cut unemployment, a key source of discontent among voters, by 4 million people in the past four years. Satisfaction with the single currency has been rising in most nations over the same period.
Yet as the French presidential election shows, politicians calling for an exit from the bloc are far from out of touch. The National Front's Marine Le Pen made it past the first round and is on track for a 40 percent share of the vote in May's runoff -- not enough to win, but still a reminder that an ECB-inspired economic upturn won't sway everyone.
The recovery "will take away some fuel from populist parties but it is not sufficient to make them disappear," said Joerg Kraemer, chief economist at Commerzbank AG in Frankfurt. "It would be wrong to follow a strategy saying: we only have to stimulate the economy enough, to create growth, to solve the problem."
Draghi, who will hold a press conference on Thursday after the Governing Council sets monetary policy, has previously called the ECB's measures "socially progressive" because they boost consumption, investment and jobs.
Unemployed Vote
That addresses one of the key attractions of populism. Le Pen was bolstered by people out of work, winning nine of the 10 mainland French departments that have the highest jobless rates by anywhere from one-quarter to one-third of Sunday's vote. The country has barely managed to bring down unemployment since the financial crisis.
While polls predict her defeat in the May 7 run-off, Le Pen's chances of becoming president might hinge on how much voter disaffection reduces turnout, according to analysts who sifted through first-round results.
Despite France's woes, support for the euro there has been recovering. In Italy, where unemployment actually rose last year, it continues to languish and the anti-establishment Five Star Movement has a realistic chance of power. Italian politics has been in limbo since former Prime Minister Matteo Renzi lost a referendum on constitutional reform in December, leaving his plans for economic reform on standby at least until elections due early in 2018.

In contrast, Dutch populist Geert Wilders was clearly defeated in elections this year. His country has the lowest unemployment since 2011. In Germany, which has a record-low jobless rate and which faces elections in September, the anti-euro Alternative fuer Deutschland party has lost traction and lurched toward a more-radical anti-immigrant stance.
Yet populist campaigns addressing fears such as terrorism, immigration and national identity touch upon areas far outside the reach of central-bank technocrats.
In the U.S., Donald Trump won the presidency on the back of an anti-establishment revolt despite a clearly recovering economy and the lowest unemployment since the financial crisis. The U.K. was looking economically robust when it voted to leave the European Union.
Time Lag
"Even if the economy is doing okay, there is the desire of a minority to take back control of nearly everything: borders, immigration, monetary policy, financial policy, the economy," Kraemer said. "These are structural factors that are still there."
While some voters will support populist policies no matter what, for others time might be a factor. Economic revivals can take months or years to be widely felt by the electorate, as Greece found in 2015 when a nascent recovery didn't prevent Alexis Tsipras and his Syriza party from coming to power and pushing the nation into a confrontation with creditors that almost forced it out of the euro.
"Major parts of the population appreciate an economic upswing only with a lag -- the lag can easily be two years," said Holger Schmieding, an economist at Berenberg in London. In the U.S., the lag "seems to be even longer."
Draghi started cutting rates in November 2011, at his first Governing Council meeting as president. In July 2012, as rapidly widening bond spreads threatened to tear apart the currency bloc, he calmed investors with his now-famous "whatever it takes" pledge to defend the euro.
Euro-area unemployment finally peaked at 12.1 percent in April 2013. Four years later -- with negative rates, a 2.3 trillion-euro ($2.5 trillion) asset-purchase program, and lenders loaded up with free central-bank cash -- the jobless rate is down to 9.5 percent and Draghi has said the risk of a deflationary spiral of falling prices and wages has largely disappeared.
In Schmieding's view, that might be just enough to be noticed by voters and get the euro area through the current electoral cycle.
"Without the ECB's somewhat belated interventions, the radical populists might well have won," he said.
Before it's here, it's on the Bloomberg Terminal.
LEARN MORE