Christie's Capitol Renovations Approved Amid Cost Concerns
By
N.J. commission lacks breakdowns on scope of restoration work

Treasury delaying release of documents detailing four-year job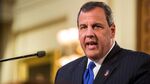 The board that oversees New Jersey's crumbling capitol approved a $300 million renovation pitched by outgoing Governor Chris Christie as his administration continued to withhold cost breakdowns and other details.
The State Capitol Joint Management Commission voted 7-0, with one abstention, after some members raised questions about spending on a job that will close one portion of the Trenton statehouse for four years for repairs and upgrades. Even after public vetting, such renovations in states including Oklahoma and Kansas have run into years-long delays and unexpected costs in the millions of dollars.
"We don't want to have, quote-unquote, any frivolous items included," said member Christine Shipley, executive director of the Senate Republican office. George C. Skarmeas, a partner in Philadelphia-based Preservation Design Partnership, a renovation consultant to the project, said that won't be the case.
"I cannot think of anything that I would consider as frivolous or nice to have," Skarmeas said. "Everything that is in place are necessary items to do the proper renovation of the building and operate the statehouse as a 21st century facility."
Commission member Mary Alice Messenger, executive director of the Assembly Majority office, abstained from voting, saying she didn't have a "comfort level" with information on finances. She also said she had doubts on whether the project's approval was within the commission's authority.
Unanswered Questions
The vote infuriated state Senator Raymond Lesniak, a Democrat from Elizabeth who is running for governor. Since Christie announced the project in November, Lesniak unsuccessfully has sought details on how the funds will be spent. Christie, a 54-year-old second-term Republican, leaves office in January.
Lesniak's request for public records related to the renovation has been delayed by the treasury department repeatedly, as has one by Bloomberg News. The most recent due date is April 28, four days after the commission vote.
"Christie has found a way to avoid any legislative approval or public notice," Lesniak, 70, said in an email.
Brian Murray, a spokesman for Christie, didn't respond to an emailed request for comment on why the project's full details haven't been disclosed. Willem Rijksen, a treasury spokesman, said by email that the meeting documents were "but a fraction of the materials" contained in public-records requests, which entail the review of "thousands of pages of information" by treasury staff.
Skarmeas, the consultant, said most double-hung windows are "shot." Photos showed the sinking foundation beneath executive offices and a fabric-type barrier installed to catch falling chunks of the exterior.
"This is the most ingenious use of duct tape I've ever seen in my life," he said of a skylight held together with a hardware-store fix.
The project is set to start in July. It still needs approval from the state's Economic Development Authority, which will finance the work.
Already some government employees have been moved to state-owned space elsewhere. Media outlets that rent bureaus on the Statehouse's press row, including Bloomberg News, were mailed notices in March ending their leases effective June 30. Reporters promised temporary offices haven't been told where they will be relocated.
Before it's here, it's on the Bloomberg Terminal.
LEARN MORE