Chobani Sues Infowars' Alex Jones Over Video Tying Refugees to Rape
By
Infowars owner Alex Jones criticizes company's refugee hires

Jones has backed Trump's policies against influx of refugees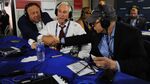 Greek yogurt maker Chobani LLC sued the right-wing conspiracy theorist Alex Jones and his Infowars website over a video linking the company's hiring of refugees to an unrelated child-rape case in Twin Falls, Idaho, where a company plant employs 1,000 people.
The video posted by Infowars on April 11 falsely claims that the Chobani plant, opened in 2012, was "caught" importing "migrant rapists," as well as bringing crime and tuberculosis to the southern Idaho town of about 50,000 people, according to a complaint filed Monday in state court in Twin Falls.
"These extreme and outrageous statements unequivocally accuse Chobani of engaging in conduct that is not only incompatible with the lawful operation of a business, but would violate state and federal law," the Norwich, New York-based company said in an April 13 letter to Jones before it filed suit.
Jones, who hosted President Donald Trump on his TV show during the campaign, gained notoriety after claiming that the U.S. government planned the 9/11 attacks and faked the mass shooting at Sandy Hook Elementary School in Connecticut. He recently apologized for his role in pushing a widely debunked conspiracy theory that a pizza restaurant in Washington was hosting a child-sex ring being run by Hillary Clinton and other Democrats.
Unspecified Damages
Jones's promotion of the "false" Chobani video on Twitter prompted calls for a boycott of the privately held company's products, according to the defamation suit, which seeks unspecified monetary damages. In the company's earlier letter to Jones, it demanded the videos be corrected and taken down.
Eric Taube, a lawyer for Jones at Waller, Lansden, Dortch & Davis LLP in Austin, Texas didn't immediately return a call for comment.
The June 2016 incident at the center of the dispute has been taken out of context by "fringe blogs" that are "spreading misinformation," Josh Palmer, a public information officer for Twin Falls, said in a phone interview Tuesday. Grant Loebs, the prosecuting attorney for Twin Falls County who is handling the case, said none of the parties have any connection to Chobani.
There were 12 cases of sexual assault in the city that year, and one involved non-U.S. citizens, Palmer said.
"Chobani created a lot of jobs here, regardless of background, race or ethnicity,"  Palmer said. "They've given a lot back. There is a refugee-resettlement program near our city that's been around since the early 1980s, long before Chobani was here."
Refugee Policy
Hamdi Ulukaya, Chobani's billionaire founder who moved to the U.S. from Turkey, has made a point of hiring refugees to work at his factories. He's also been critical of Trump's anti-refugee policies.
Jones has published articles backing Trump's views, including claims that Syrian refugees are flooding the U.S. and that the Starbucks brand "crashed" after the company promised to hire thousands of Muslims fleeing their homelands. After the election, Jones told Politico that Trump called him to thank him for his support.
The Infowars website, which warns of the "manipulation of facts and the slow relentless war on reality," has also claimed that the bombings of the Boston Marathon and the Oklahoma City federal building were "false flag" operations carried out by the U.S. The Southern Poverty Law Center describes Jones as "almost certainly the most prolific conspiracy theorist in contemporary America," according to the complaint.
The case is Chobani LLC v. Jones, CV42-17-1659, District Court for the Fifth Judicial District of the State of Idaho (Twin Falls).
— With assistance by Andrew M Harris
Before it's here, it's on the Bloomberg Terminal.
LEARN MORE