China Indicts Former Statistics Bureau Director Wang for Bribery
Bloomberg News
Agency chief was accused of 'accepting a huge amount of money'

Former Sichuan vice governor Li also indicted on taking bribes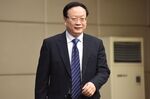 Wang Baoan, former head of China's National Bureau of Statistics, was indicted on suspicion of accepting bribes, the official Xinhua News Agency reported Tuesday.
Wang is accused of taking advantage of his posts as NBS chief and assistant and vice finance minister to benefit others, and "illegally accepting a huge amount of money and property" either by himself or through others, Xinhua said, citing the Supreme People's Procuratorate. The report Tuesday didn't include any reference to the accuracy of Chinese economic data.
Wang's name joined the long list of high-ranking officials targeted in President Xi Jinping's campaign against corruption last year when the anti-graft authority, the Central Commission for Discipline Inspection, said he was suspected of severe disciplinary violations.
Wang was succeeded last year by Ning Jizhe, a close adviser to Premier Li Keqiang, who also continues serving in his prior role as the vice chairman of the National Development and Reform Commission, the country's top economic planning body. Ning has said his agency must improve its accounting of the new economy and more accurately track new industries.
Former Sichuan province vice governor Li Chengyun also was indicted on suspicion of bribery. He is accused of accepting payments and taking advantage of his posts while in that job and as the Communist Party chief of Deyang city, Xinhua reported Tuesday.
Separately, the state-controlled news agency said in a commentary published late Monday that the government has "zero tolerance for any fabrication of economic data" as authentic figures are important for making correct decisions that benefit people.
Xinhua cited Liaoning Province, which said in January that it fabricated fiscal data from 2011 to 2014 because officials wanted to advance their careers. Since then, Xi and Vice Premier Zhang Gaoli have both called for punishing phony data.
"The issue of inflated data originates from the obsession some local officials have for impressive figures, which could bring political benefits under previous official evaluation measures," Xinhua said.
Of the 23 provincial-level regions that have released first-quarter gross domestic product data as of Monday, Liaoning's 2.4 percent growth was the slowest, according to the report.
The central government plans steps that will reduce the influence local governments have on economic statistics, a person familiar with the matter told Bloomberg News in January.