Canadian Pension Fund Seeks Buying Opportunities in Indian Bonds
By and
Caisse de depot et placement also eyeing private-equity funds

Foreign investment in Indian rupee debt surged in March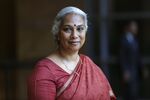 Caisse de depot et placement du Quebec is looking to India's bond market and private equity funds for more buying opportunities, as it seeks to boost its exposure to Asia's third-largest economy.
"We are looking at doing something significant through our fixed-income asset class," Anita George, managing director for South Asia at the Canadian pension fund manager, said in an interview in Mumbai. The Caisse "would love" to invest more in government debt, bonds of state-owned firms and eventually in private-sector corporate bonds, she said.
Lured by the fastest economic expansion among major global economies and hopes of more economic reforms under Prime Minister Narendra Modi, overseas investors have been bolstering their investments in India. Foreign holdings of rupee-denominated government and corporate bonds climbed by about 360 billion rupees ($5.6 billion) in the first quarter to 3.5 trillion rupees. Some 272.6 billion rupees was invested in March alone, the most for any month in National Securities Depository Ltd. data going back to mid-2011.
The Montreal-based fund, which manages assets of about $200 billion for pensioners in the province of Quebec, established its South Asian unit in March 2016 and has about $2.8 billion in Indian investments, according to George.
The Caisse is also considering investing in India's private-equity funds, said George, 56. "Traditionally, we have invested in the large global funds and we continue to do that. Now we are looking at India-based, India-focused funds, and we find very interesting funds that are doing remarkable work."
Bad Loans
George said that government steps to address India's mountain of soured loans provides "a business opportunity" for Edelweiss Asset Reconstruction Co., India's largest bad-loan buyer, in which the Caisse has a 20 percent equity stake.
The Canadian fund said in October it's targeting $600 million to $700 million in stressed assets and specialized corporate credit in India over four years.
Stressed assets in India -- bad loans, restructured debt and advances to companies that can't meet servicing requirements -- have risen to about 16.6 percent of total loans, the highest level among major economies, data compiled by the government show.
Various plans have been proposed by the central government to resolve the issue but many banks are unwilling to discount their loans and some experts have argued the government should move more forcefully, perhaps setting up a "bad bank" to tackle the problem.
George said she's encouraged by an update to the bankruptcy code and the Reserve Bank of India's audit of the nation's lenders last year, which forced them to lay bare hidden loans. Banks now need to step and fix their systems, put stricter credit requirements in place and track the behavior and performance of borrowers, she said.
If the government "came in with a whole gob of capital it would be like a band-aid that doesn't really treat the wound." she said.
Before it's here, it's on the Bloomberg Terminal.
LEARN MORE