business
Your Evening Briefing
Here are today's top stories.
By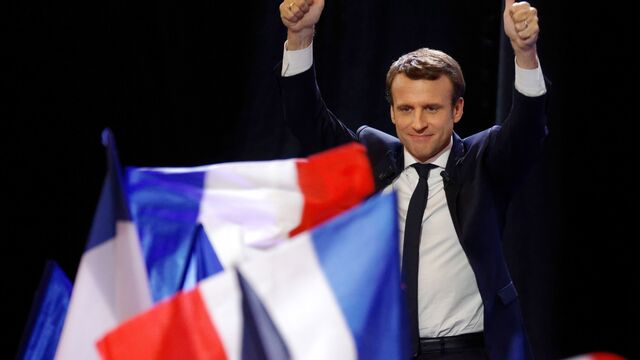 Want to receive this post in your inbox every afternoon? Sign up here.
There was no shortage of news this weekend as voters in France went to the polls, resulting in a standoff between a banker and a far-right populist. (They'll meet again on May 7.) It's the country's most consequential election in decades.
Elsewhere, the possibility of a U.S. government shutdown looms, while Trump aides prepared to lay out their plan for tax code changes to top Republicans. If you turned it all off over the weekend, though, here's what you missed — and what to keep an eye on. —Megan Hess
France braces for a runoff between nationalism and globalism. For the first time in modern-day France, neither of the two mainstream parties made the second round of a presidential election. In their place, Emmanuel Macron, a former Socialist economy minister who left the party to run for the presidency, and Marine Le Pen, head of the far-right National Front, will face off on May 7. Here are eight maps to help make sense of all that's scrambling the political landscape in France—from anti-establishment frustration to blue-collar angst and urban-rural divide.
Meanwhile, the National Front attacked Macron as a "candidate of oligarchs" and banking lobbies as it sought to portray Le Pen as more in touch with the French people. Macron had 23.8 percent in the first round and Le Pen had 21.5 percent, according to results from the Interior Ministry with 97.4 percent of votes counted.
The electric car revolution now faces its biggest test. More people are buying Teslas in Georgia today than during the subsidy years, and the Model S is now the best-selling large luxury vehicle in America. Changes to state or federal incentives are unlikely to alter that fact. But those Teslas are premium cars that start around $70,000. For plugins to really take over the auto industry, they'll need to prove themselves in cheaper classes of car and expand beyond just Tesla.
Trump's demands for a wall could be the deciding factor in a government shutdown. The president's biggest demand — money for his long-promised border wall with Mexico — is a Democratic deal-breaker. A partial shutdown would start on Saturday, Trump's 100th day in office, and Democrats hope he'll blink to avoid an embarrassing milestone. White House Press Secretary Sean Spicer said the administration feels "very confident the government's not going to shut down," but he wouldn't guarantee it.
The next seats Republicans will have to defend in special elections. A high-profile election April 18 in Georgia produced no majority-vote winner and is going to a second round in June. Special elections are on tap in Montana next month and in California and South Carolina in June. There probably will be one more, in a Pennsylvania district, and we're keeping our eye on two possible additions, in Oklahoma and Utah. Here's what you need to know about the upcoming contests.
A dying man's lost recipe made his daughter a multimillionaire. When Hiroe Tanaka's father died, he left behind a handwritten memo for fried meat on a stick. He'd spent endless hours working out how to make the seemingly simple dish just right. The recipe helped save a restaurant business from bankruptcy in 2008 and elevated Tanaka from part-time employee to vice president of a company named after her. The university dropout now sets strategy for the $82 million Kushikatsu Tanaka Co.
You can now rent hotel rooms by the minute. A new app called Recharge, a product of JetBlue's tech incubator, expands to New York on Monday with 16 luxury properties. Prices range from $0.83 to $2 per minute (plus 14.75 percent lodging tax). If your priority is getting some rest, you'll pay from $20 to $46 for a 20-minute power nap, $57 to $128 for a 60-minute snooze-and-shower, and $85 to $207 for a 90-minute stay in which you can catch up on email.
Before it's here, it's on the Bloomberg Terminal.
LEARN MORE