politics
May Seeks to Snatch U.K. Labour Voters With Energy Price Cap
By
Ofgem would be ordered to set limits for standard tariffs

May's Tories lead Labour by more than 20 points in some polls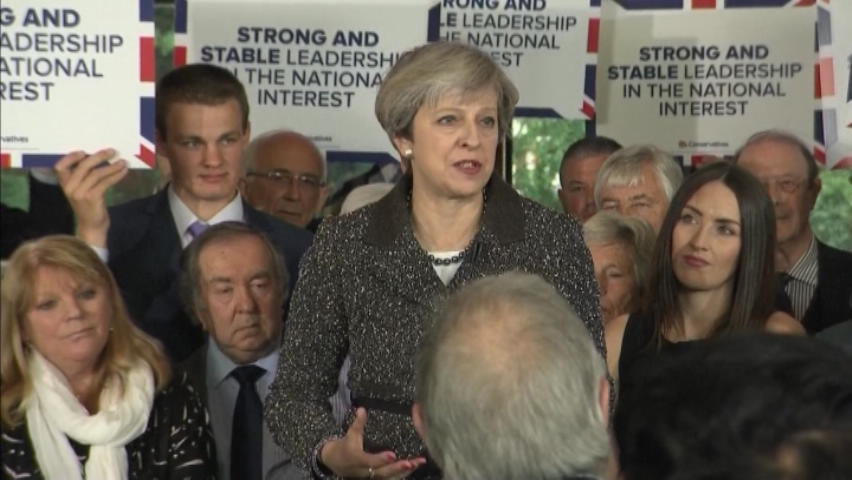 U.K. Prime Minister Theresa May's Conservative Party is proposing to cap household gas and electricity prices as part of its campaign platform for the June 8 election, adopting an issue promoted by the opposition Labour Party in the last election.
Work and Pensions Secretary Damian Green confirmed the plan after the Sunday Times newspaper reported that the Conservative manifesto will set out a policy of ordering energy regulator Ofgem to set a maximum price for the 70 percent of households that pay suppliers' standard tariffs. That would cut 100 pounds ($130) off the average family's annual utility bill, the newspaper said.
The move is similar to a proposal made by former Labour Party leader Ed Miliband before the 2015 election. It signals a further pitch by May to woo Labour voters in key swing districts, with the Conservatives already more than 20 percentage points ahead of Labour in some polls.
"People feel that some of the big energy companies have taken advantage of them with the tariffs they've got," Green said on ITV's "Peston on Sunday" program. The cap would be "more flexible" than one proposed by Labour, he said: "If the oil price fell again, then consumers would benefit in a way they wouldn't have done under Ed Miliband's proposal."
Less than a week after May announced plans for a surprise June vote, the ruling Conservative Party has been backing away from parts of its 2015 campaign platform. May and Chancellor Philip Hammond last week signaled the Conservative Party will drop a pledge not to raise taxes.
Big Six
The government has been ratcheting up the pressure on Britain's so-called Big Six utilities for months, trying to encourage them to take voluntary measures to rein in gas and power prices. Business Secretary Greg Clark warned last month that the "time is up" for the utilities, while May said the energy market "is manifestly not working."
Five of the six -- Electricite de France SA, SSE Plc, Innogy SE's Npower unit, Iberdrola SA's ScottishPower business and E.ON SE -- have announced price increases since the start of the year, while only Centrica Plc has frozen prices. The Competition and Markets Authority said in 2015 that Britons overpaid on their bills by 1.2 billion pounds ($1.5 billion) a year from 2009 to 2013 by not changing suppliers.
Meanwhile, Miliband's successor as Labour leader, Jeremy Corbyn, sought to offer voters Sunday the vision of "a very different country" if he becomes prime minister.
Nuclear Missiles
Commercial providers would be phased out of providing care within the state-owned National Health Service, Corbyn said on BBC Television's "Andrew Marr Show." He pledged to negotiate government contracts only with companies that agree to curb executive pay and proposed four new public holidays across the U.K. to allow workers to spend more time with their families, he said the Bank of England concluded that such a move as would be "roughly neutral" for the economy.
Asked whether the Labour manifesto would keep an existing commitment to renewing the Trident nuclear-weapons system, Corbyn, an opponent of nuclear weapons, would only say that the new manifesto is still being written. He didn't fully answer a question on whether there would be any circumstances in which he would order the firing of nuclear missiles.
The polls carried out for the Sunday newspapers suggest the Conservatives are on course for a majority of more than 100 seats in the 650-member House of Commons. ComRes put the Tories on 50 percent -- the first time they've achieved that mark since 1991 -- with Labour on 25 percent. YouGov put the Conservatives ahead by 48 percent to 25 percent, An Opinium survey had a 19-point Tory lead, though a Survation poll put May's party only 11 points ahead.
'Nice Problem'
Still, the size of the lead "masks a real danger for the Tories," ComRes Chairman Andrew Hawkins said in an emailed statement. "That is a nice problem for a party to have, but it is nonetheless a particular challenge in an election which may well be marked by low turnout and thus bring about some unpredictable and possibly surprising individual constituency results."
With a call for a second referendum on the terms of the Brexit deal, the pro-European Union Liberal Democrats are targeting seats held by both main parties in districts that voted to stay in the bloc last year.
Liberal Democrat leader Tim Farron told ITV that there are "no circumstances whatsoever" in which his party would go into coalition with the Conservatives or Labour or prop up a minority Tory or Labour government. May and Corbyn "have basically joined hands together to push us over the cliff edge of a hard Brexit," Farron said.
In other campaign news:
Two Scottish voting-intention polls showed the Tories also making ground against the Scottish National Party and Labour; that would point to the Conservatives adding to their single seat in Scotland and the SNP losing some of the 56 out of 59 they won in the 2015 election.
U.K. Independence Party leader Paul Nuttall said UKIP may not run against pro-Brexit Conservative and Labour candidates in some districts.
The leader of the Welsh nationalist Plaid Cymru party, Leanne Wood, said she's "seriously considering" running for a Labour-held seat in the House of Commons in an area she already represents in the Welsh Assembly.
(
Adds background on energy, polls, updates with Farron starting in fifth paragraph.
)
Before it's here, it's on the Bloomberg Terminal.
LEARN MORE