politics
Le Pen's Crowd Sings Marseillaise as Spirits Surge at Macron HQ
By , , and
National Front activists seek return to core themes for runoff

Establishment parties' supporters despair at historic rout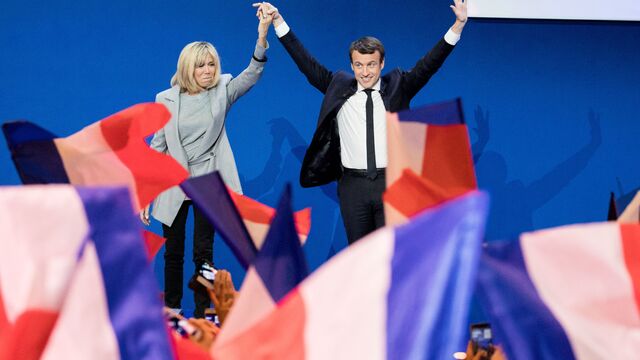 At Marine Le Pen's election night party, nationalists chanted her name over and over again when TV stations projected she'd make the French presidential runoff -- and then burst into a chorus of the Marseillaise.

But the "children of the fatherland" -- as the French anthem describes those who sing it -- who gathered with the far-right leader in a sports hall in the northern town of Henin-Beaumont were still unsure whether she can secure a victory in the final round on May 7. Her centrist rival Emmanuel Macron was already piling up endorsements from across the political spectrum.
"The duel will be tight, it's going to be complicated," party member Joel Jadot, 70, said at the rally in the former mining town, a stronghold for Le Pen's National Front.
The second-round contest will pit Le Pen's nationalism against an arch-internationalist in Macron, who's as committed to reviving the European project as Le Pen is to breaking it up.
Le Pen's plans to leave the euro have left many French people uneasy, but her broader arguments about the corrosive effect of immigration and the threat of terrorism have struck a chord with voters ground down by years of economic under-performance and unemployment.
"I don't know if the euro weighed on her campaign but she's got to go back to basics," Jadot said. "She must talk about patriotism now."
A Hénin-Beaumont, les militants du FN fêtent le score de Marine Le Pen en chantant la Marseillaise #Presidentielle2017 pic.twitter.com/e6HKHg6S3E

— La1ere.fr (@la1ere) April 23, 2017
Macron's HQ
National Front lawmaker Jean-Lin Lacapelle, a member of the party's executive board, was confident that Le Pen could count on "pockets of support" from all the eliminated candidates and predicted that she'll try to shift the debate back to her core issues.
"Now we're going to talk security, immigration," Lacapelle said.
Thirty-nine-year-old Macron, running in his first-ever campaign, must persuade voters that he is tough enough to keep the country safe after a shooting in Paris last week reminded them of the terrorist threat. And he faces suspicion in the provinces after a stellar career as an investment banker and government adviser before becoming economy minister under outgoing President Francois Hollande.
At the exhibition center in western Paris where Macron's supporters gathered for the results, a crowd of several hundred people, most of them young, waved French flags, a signal that the National Front doesn't have a monopoly on patriotism. Though they greeted the result with shrill cries of victory, the hall was only half full.

Gautier de Bretagne, an entrepreneur in his mid-thirties sporting a lapel badge of Macron's movement On the Move, said he doesn't fear the confrontation with Le Pen.
"Macron is much smarter than Le Pen, he's got a much cooler head," said de Bretagne. "I think he'll win hands down."
Moving to Australia
Activist Manon Servais, 23, hoped that other mainstream forces would unite around Macron to keep the National Front at bay in the second round, as it has in several previous elections. "I think -- I hope -- that there will be a Republican front," she said. "We need it."
A short walk away at Fillon's campaign headquarters, cocktail snacks were running out within a half-hour of the first results and tables were stained with red wine. Eric Pialat, who advises start-ups on mergers and acquisitions and helped shape Fillon's program, said he was considering moving to Australia.
"The disappointment is immense," Pialat said, glass in hand. "Macron won't help bring France's labor costs closer to Germany's." He'll vote for Macron, but reluctantly, to stop extremism. For him, Macron is "the spiritual son of Hollande."
"The campaign was stolen from us by the judicial investigations," said Xavier Jaglin, 49, who works in development aid, referring to the embezzlement charges that derailed Fillon's bid. A win by Macron would mean "international finance taking power in France," he said
Read more about Fillon's legal problems

At Belushi's Bar, in a working-class district of eastern Paris, the Communist intellectuals backing Jean-Luc Melenchon, the late revelation of the campaign, gasped when the first returns showed he'd missed out on a highly unexpected place in the final round. There was a silence of almost a minute before a burst of applause in recognition of how narrowly he'd missed out.
Back to Work
Patrice Finel, 65, who manages a social-housing project, said he was done with the election now because he couldn't bring himself to vote for either of the candidates who are left.
"I'll vote blank -- I can't choose between the fascist plague and the neo-liberal cholera," Finel said. "It's not a given that Macron will win. And if he does he'll just prepare the way for Le Pen by following the failed policies of ex-President Nicolas Sarkozy and Hollande and the Germans."
As Melenchon's supporters fanned out into the Parisian night, Le Pen footsoldiers in Henin-Beaumont were already starting to think about a return to the campaign trail.
Jadot, from the nearby city of Arras, said he thinks Le Pen can win over voters who backed both conservative Francois Fillon and Communist-backed Jean-Luc Melenchon and he plans to start leafleting again on Monday morning.
"We'll talk about Macron as the man without a program, without a party, without a majority," Jadot said.
— With assistance by Gregory Viscusi, Gaspard Sebag, and Robert Williams
Before it's here, it's on the Bloomberg Terminal.
LEARN MORE