Hot Spots in Emerging Markets This Week: China, Venezuela
by
French elections in focus as investors gauge risk sentiment

Nigeria opens foreign-exchange window for portfolio investors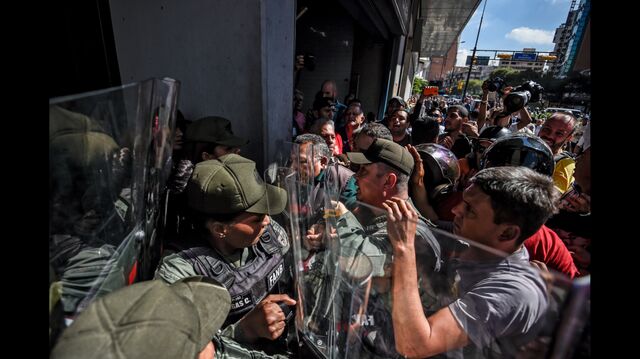 With the first round of France's presidential election complete, emerging markets have escaped a potential sell-off trigger, even as concern over political turmoil in South Africa and South Korea eases.
Still, Venezuela remained a flashpoint amid nationwide protests against the government, while interest-rate decisions in Turkey and Colombia were likely to be in focus. In China, investors braced for a continued crackdown on leveraged trading.

Nigeria
Nigeria's central bank on Monday is introducing a foreign-exchange window for portfolio investors to try to ease a shortage of dollars. Foreign investors fled naira assets after the government allowed the currency to devalue last year.
While the naira has been little changed at about 315 per dollar since August, non-deliverable forward contracts signal traders see the currency depreciating more than 10 percent in three months.
Read More: Nigeria to Open Foreign-Exchange Window for Portfolio Investors
China
The Shanghai Composite Index had its worst week this year amid a crackdown on leveraged trading. The China Securities Regulatory Commission has stepped up criticism of what it called disruptive trading behavior, with Chairman Liu Shiyu saying Chinese bourses should punish irregularities "without mercy."
Read More: What China is doing to cleanse its financial system risk
The decline in stocks may persist "as regulators will likely maintain their strict stance on financial scrutiny," said Wu Kan, a Shanghai-based fund manager at Shanshan Finance Co.
Venezuela
Opposition leaders have called for more demonstrations to protest against President Nicolas Maduro, who has described the recent unrest as a coup. As many as 20 people have been killed since the protests began this month.
The violence adds to pressure on the nation's assets. Venezuela's international reserves are at the lowest level since 2002 and its sovereign Eurobonds are among the cheapest in emerging markets.
Read More: Venezuela Sees Its Bloodiest Night Yet as Protests Mount

Colombia
The central bank is scheduled to decide on interest rates Friday. Recent weak economic data have led to speculation that policymakers will speed up the pace of cuts, after reducing the overnight lending rate by 75 basis points since the beginning of December.
The central bank will probably lower the rate 25 basis points, according to the median of 20 estimates compiled by Bloomberg.
Turkey
The central bank may maintain a "tight" policy stance at the April 26 meeting, Governor Murat Cetinkaya said last week.
The bank has pushed funding costs up by more than 300 basis points this year through daily liquidity management. JPMorgan Chase & Co. said such policy tightening has been enough to stabilize markets and restore some credibility, though "perhaps not as effective as a conventional 300 basis-point rate hike."

Saudi Arabia


The Middle East's biggest bourse has shifted its settlement cycle to T+2, aligning the exchange with its international peers as it seeks inclusion in MSCI Inc.'s emerging-market index, which is tracked by fund managers globally.
In 2015, the exchange allowed investors abroad to trade shares directly for the first time. Even after the government further eased the requirements to access the market last year, foreigners hold less than 5 percent of the total market capitalization.
The Tadawul All Share Index rose on Sunday after King Salman restored bonuses and allowances for state employees.
Before it's here, it's on the Bloomberg Terminal.
LEARN MORE