Corbyn, Sturgeon to Make Their Election Cases to Scottish Voters
By
Sturgeon to argue she has strength to take on May in Scotland

Corbyn to say Labour will defend workers from Brexit fallout
Britain's two main opposition-party leaders will make their case to Scottish voters on Monday, saying only they can check the power of Prime Minister Theresa May.
Addressing the Scottish Trades Union Congress, First Minister Nicola Sturgeon will say her Scottish National Party has the strength to take on May's Conservative Party north of the border, according to comments provided by her office. Speaking to the same group, Labour Party leader Jeremy Corbyn will say he can defend the interests of workers against any fallout from Brexit, the party said.
How Scotland votes in the June 8 government election might determine how much momentum Sturgeon has behind her call for a second referendum on independence. Two Scottish voter-intention polls over the weekend showed the Tories making ground against the SNP and Labour. That would point to the Conservatives adding to their single-seat advantage in Scotland, and the SNP losing some of the 56 out of 59 positions it won in the 2015 election.
"The election in Scotland is a two-horse race between the SNP and hard-line Tories,'' Sturgeon will say, according to her office. "The bigger the Tory majority, the more they will think they can do anything to Scotland and get away with it.''
Sturgeon will say May's call to remove the U.K. from Europe's single market will cost thousands of Scottish jobs, and she will also contend that electing more Tory lawmakers would encourage the prime minister to line up a hard Brexit and make more spending cuts.
"Only the SNP has the strength to stand up to the Tories and make Scotland's voice heard,'' Sturgeon will say.
Corbyn will say that his party is the only one that will "negotiate a Brexit deal which protects the interests of working people'' and that his economic plan's promise of a 10 pound ($12.83) per hour minimum wage will give about 500,000 Scottish workers a pay raise.
"Labour's Brexit deal will build on the rights won for workers, consumers and the environment in the EU," Corbyn will say, according to an advance readout from Labour. "We will put jobs and living standards first."
Scottish Conservative leader Ruth Davidson said voters face a choice "between the Conservatives standing up for the union and focusing on getting the best deal in the Brexit negotiations, or Jeremy Corbyn and the SNP putting our nation's future at risk."
Watch More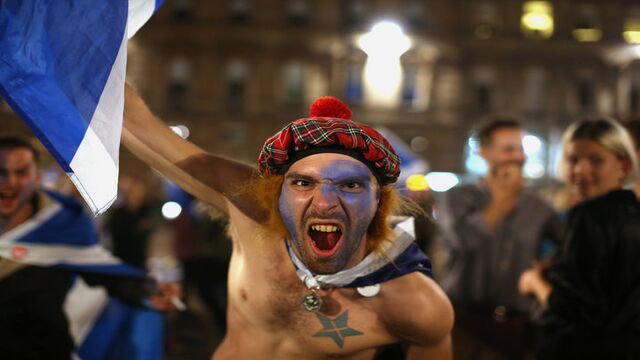 Before it's here, it's on the Bloomberg Terminal.
LEARN MORE