business
Trump Trade Policies Still Unclear, Says Philippine Central Bank Chief
By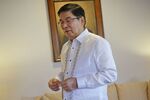 The Philippine central bank governor Amando Tetangco said the outlook for economic growth continues to brighten, though there are uncertainties such as concerns about U.S. trade policy.
The global economy appears to be gaining ground after years of sluggish growth in the wake of the global financial crisis, or GFC, he said. While worries about the impact of a U.S.-led push to address trade imbalances through heightened protectionism haven't materialized so far, that doesn't mean the risk has completely dissipated.
"The question is whether we are seeing the light at the end of the GFC tunnel," Tetangco said in an interview in Washington. "Prospects have improved but risks remain. We have to make sure that light is not an oncoming train."
"I don't think it's clear to anyone at this point" what trade policies U.S. President Donald Trump will pursue, he said. "There has been a lot of rhetoric, but in terms of actual policies we have not seen that happen."
With domestic inflation within the central bank's target range, Tetangco said there's no need to adjust monetary policy.
"Our expectation is that inflation will continue to rise gradually until about the third quarter of this year and then start to go down," he said. "There is no strong impetus for the central back to change the stance of monetary policy. But obviously things are evolving so we continue to monitor and assess developments."
Bangko Sentral ng Pilipinas is forecast by economists to be the first in Southeast Asia to raise interest rates this year. It held the benchmark interest rate at a record-low 3 percent in March, and lowered inflation forecasts.
No Urgent Philippine Policy Move Needed, Tetangco Says
Consumer prices rose 3.4 percent in March from a year earlier, the fastest pace since November 2014. The central bank's target is for average inflation to stay at 2 percent to 4 percent until 2020.
The Philippine economy is forecast to to grow more than 6 percent until 2019, among the fastest pace of expansion in the world.
Tetangco steps down in July and said he hopes the next governor will be named soon. His possible successors include two of his deputies Nestor Espenilla and Diwa Guinigundo, banker Antonio Moncupa and former monetary board member Peter Favila. The president appoints the central bank governor for a term of six years.
Tetangco said that he thinks that the government should get someone with central banking experience. 
Central banks in Asia are also contending with the risks of capital outflows and weaker currencies as the U.S. tightens monetary policy. The peso is basically unchanged this year against the dollar, one of the worst-performing Asian currencies.
"It depends on how financial markets globally react to whatever the Fed is going to do.
If the Fed moves along the lines that it has described -- that the adjustments will be gradual -- then I think there should be no significant impact on foreign exchange markets," Tetangco said.
— With assistance by Karl Lester M Yap
Before it's here, it's on the Bloomberg Terminal.
LEARN MORE