Your Evening Briefing
Bloomberg News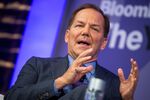 The evening briefing will soon be available in your inbox every day. To be among the first to get it, sign up here. 
The current state of U.S. stocks should "terrify" Janet Yellen, according to billionaire investor Paul Tudor Jones. The legendary macro trader says years of low interest rates have bloated stock valuations to a level not seen since 2000 - right before the Nasdaq tumbled 75 percent over two years. The message? Be afraid. Be very afraid. —Alex Millson
Evidence mounts that MH370 crashed outside search zone. Analysis of a Boeing 777 wing flap has reaffirmed experts' opinion that the missing Malaysian airliner most likely crashed north of an abandoned search area in the Indian Ocean more than three years ago.
The real world of oil is flashing signs of weakness again. Dwindling Asian purchases, an influx of American crude to Europe and supplies flowing out of storage have combined to recreate a glut in the North Sea. The weakness comes as speculators have started rebuilding bullish positions after a selloff last month.
Malaysia's opposition has a secret weapon to oust Najib Razak. In a sparse office, dozens of researchers are crunching numbers in a big data operation aimed at toppling the prime minister. Their findings suggest Najib has weaknesses that could be exploited if the opposition were to attack him personally. But not everyone is convinced.
One of the most lavishly funded gadget startups in Silicon Valley has a problem. More than $120 million was poured into Juicero, the internet-connected device that transforms single-serve packets of chopped fruit and veg into drinks. But after the $400 machine hit the market, some investors discovered you could squeeze the fruit bags with your bare hands. 
China's workers might not be too happy with their pay raises. The country's labor market remained tight in the first quarter as the economy roared back. But although factories have stopped cutting payrolls, wage gains for high-skilled professionals and less-trained migrant workers are easing.
Dining in Paris is now better than ever. Eating in the French capital has always been great for lovers of French food - and less great for everyone else. But a new group of chefs from Japan to Australia is lighting up the city.

Before it's here, it's on the Bloomberg Terminal.
LEARN MORE