UN Says 11,000 People Have Fled Central Congo for Angola Amid Violence
By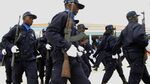 More than 11,000 people from the Democratic Republic of Congo have fled to neighboring Angola after violence spiked in the country's center, where conflict has forced over 1 million from their homes since mid-2016, the United Nations said.
The southern African nation has seen a "sharp increase" in people fleeing Congo's Kasai province, with more than 9,000 arriving in April, UN Refugee Agency spokesman Babar Baloch said Friday in Geneva. Refugees say they fled militias who target police, military officials and civilians perceived to support the government, according to Baloch.
The fighting between Congolese security forces and militiamen that began in August in previously stable Kasai-Central province has claimed hundreds of lives and spread to five surrounding provinces, including Kasai, which borders Angola. While the UN has more than 19,000 peacekeepers in Congo, their presence is limited in the country's center, restricting the aid response to the crisis, according to the UN humanitarian affairs office.
Last month, an American and a Swede researching the conflict for the UN were killed in Kasai-Central, along with their Congolese interpreter.
Before it's here, it's on the Bloomberg Terminal.
LEARN MORE