Traders Are Losing Faith in European Banks as Earnings Loom
By
The sector's implied volatility has jumped versus blue chips

Europe's banks projected to post 16% earnings growth in 2017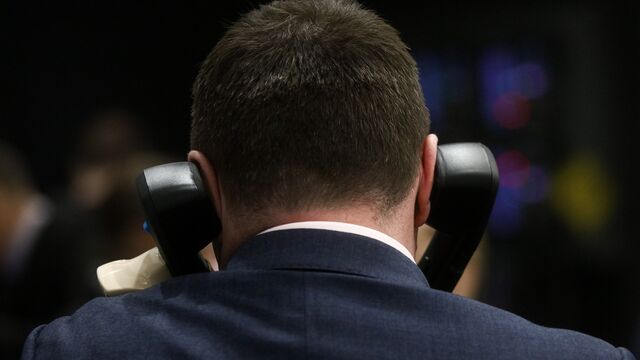 Investors in European lenders are getting cold feet.
Riding on a wave of optimism over the economic and earnings outlook, an index of the region's banks rallied to a 15-month high in March -- before posting the second-biggest decline among industry groups this month. At the same time, bets for swings in lenders' stocks have jumped, and options reached their highest prices since February 2016 relative to those for euro-area blue chips.

There's little doubt the environment for European banks has brightened, with profits forecast to grow at the fastest pace in three years in 2017 as quicker inflation fuels expectations for monetary tightening. Yet higher valuations are now unnerving investors, especially ahead of an uncertain French election in which far-right candidate Marine Le Pen is campaigning on leaving the euro.
"The stocks were too cheap, but the money's been made from the stocks revaluing to more normal levels," said James Sym, a London-based fund manager at Schroders Plc, which has trimmed its allocation to the sector while keeping an overweight position. "Everyone has come around to the idea of reflation. I just feel some of these banks have run ahead of themselves."
The Stoxx 600 Banks Index climbed as much as 19 percent since the election of Donald Trump boosted optimism for greater economic expansion and sent bond yields surging. That pushed the valuation of European lenders to the highest since October 2015 relative to the broader Stoxx Europe 600 Index, up from a record discount. The Stoxx 600 Banks Index rose 0.5 percent at 8:39 a.m. in London, while the broader gauge was little changed.

Expectations are high as firms including Banco Santander SA and Deutsche Bank AG start reporting first-quarter results next week, and they'll need to be justified by revenue guidance and improvement in interest income, according to a Bloomberg Intelligence report led by analyst Jonathan Tyce. Lenders in the Stoxx 600 are projected to post 16 percent growth in profits this year, more than the broader market and more than S&P 500 Index banks, estimates compiled by Bloomberg show.
A Le Pen presidential win would weigh on the sector as fears of France leaving the euro would escalate, causing the single currency to collapse and forcing lenders to re-denominate their assets. Citigroup Inc. analysts said on Wednesday that even though they remain overweight on European banks, certain risks should be hedged as their share prices could slump with an adverse political outcome that would drive down revenue for French operations and increase the cost of equity.
On the policy front, European Central Bank officials have been sending mixed signals as inflation and economic growth quicken. The current plan is to run quantitative easing until the end of the year and hold negative rates well beyond that. After jumping to a one-year high in March, helping lenders' shares, the 10-year German bond yield slumped this month.
Too Optimistic
"The rate at which the environment improves in terms of the yield curve in Europe may have been too optimistic," said Neil Smith, an analyst at Bankhaus Lampe KG in Dusseldorf, Germany.
Strong fixed-income trading revenue in the first quarter at U.S. lenders from Bank of America Corp. to JPMorgan Chase & Co. probably means European investment firms such as Deutsche Bank and Barclays Plc may do better, Smith added. Despite the recent share weakness, fund flows into the industry have held up in recent weeks, according to Bank of America Merrill Lynch reports citing EPFR Global data.
Schroders's strategy is to buy high-quality banking shares in more consolidated markets where margins can expand, Sym said. This means favoring firms from Sweden, Belgium and the Netherlands, rather than the U.K., Spain and Italy.
"What tends to happen when you get these big turning points is you have a rising tide that lifts all boats, and then you start to get more discrimination as the companies report profitability," he said. "By buying the lower-quality banks today, you're picking up the pennies in front of the steam roller." 
— With assistance by Wendy Soong
Before it's here, it's on the Bloomberg Terminal.
LEARN MORE