May Hinted She Doesn't Want U.K. to Leave EU Without a Deal, Official Says
By and
EU Commission's Dombrovskis says U.K. looking for agreement

British foreign secretary has said no deal is 'perfectly OK'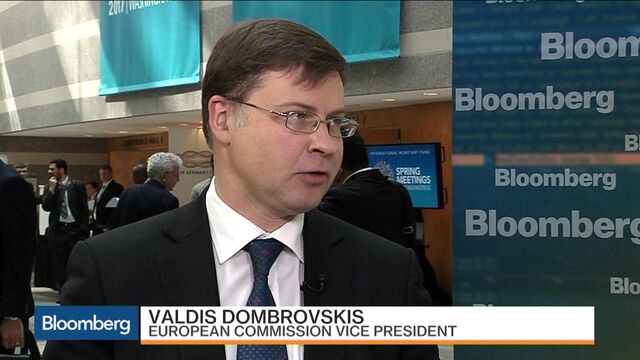 Theresa May has indicated to the European Union that she doesn't want the U.K. to leave the bloc without an agreement, European Commission Vice President Valdis Dombrovskis said.
Three months after May said "no deal" was better than a bad one, the prime minister is hinting she doesn't want to follow that path as the two sides prepare to face off on the U.K.'s financial obligations and citizens' rights post-Brexit.
"The signal we're hearing from the U.K. government, from Theresa May, is that the U.K. government is entering the negotiations willing to reach an agreement," Dombrovskis told Bloomberg TV on Friday in Washington.
While the EU is refusing May's request to start talks over a future free-trade deal at the same time as discussing terms of the "divorce," the bloc has said it would start preparations if there's progress later this year.
But if there's no agreement on how much the U.K. should pay and the rights of EU citizens already in Britain, the U.K. will leave the bloc in two years without any transitional arrangements in place in areas such as border control and airplane landing rights. It would then have to accept World Trade Organization tariffs on goods.
'Close Cooperation'
"Let's go into those negotiations in the spirit of reaching the agreement," Dombrovskis said. "We are interested in close cooperation."
Foreign Secretary Boris Johnson last month told ITV "we would be perfectly OK if we weren't able to get an agreement" and in her first major speech on Brexit in January, May said a failure to get a deal wouldn't be catastrophic.
"We would still be able to trade with Europe," May said in the Jan. 17 speech. "We would be free to strike trade deals across the world and we would have the freedom to set the competitive tax rates and embrace the policies that would attract the world's best companies and biggest investors in Britain."
Before it's here, it's on the Bloomberg Terminal.
LEARN MORE