Mobile Operator in Play for IPO as Poland's Rebound Continues
By , , and
Play Mobile parent's bonds rally after the announcement

Owners reportedly see 3.5 billion euro valuation as too low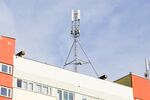 Play, Poland's fastest growing mobile provider, may soon announce an initial public offering that would give it a multibillion-dollar valuation.
The Warsaw-based company, which already serves about 14 million customers, is reviewing options to generate further growth, according to a filing on the Luxembourg Stock Exchange Friday. One option is an IPO, the company said in the filing.
Play's parent, Warsaw-based P4, until now had been funding its expansion primarily through debt sales. P4 also announced a refinancing in March, in which it secured 7 billion zloty ($1.8 billion) in credit facilities. Bonds listed by the company in Luxembourg jumped after Friday's announcement.

The company reported earnings before interest, taxes, depreciation and amortization of 2.04 billion zloty on revenue of 6.12 billion zloty in 2016.
P4 is controlled by units of Greece's Olympia Development SA and Iceland's Novator Partners LLP, which have reportedly mulled an IPO several times before. Reports as recently as October said they viewed a valuation of 3.5 billion euro ($3.7 billion) as too low.
Anthi Trohoudi, a spokeswoman for Olympia Group, declined to comment beyond Friday's statement.
A recovery in equities markets and a healthy economy in Poland are convincing more companies to list in Warsaw. Dino Polska SA shareholders sold 1.65 billion zloty of shares in the city earlier this month. Poland's largest ever offering came in 2010 when state insurer PZU SA sold 8.07 billion zloty of shares.