Lynn Tilton Says She Didn't Consider Fairness in Board Roles
By
Patriarch CEO said she retained control in companies she owned

New Zohar fund managers seeking to oust her from board seats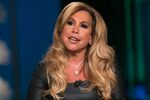 Patriarch Partners Chief Executive Lynn Tilton acknowledged she didn't examine the fairness of a decision to grant herself permanent control over board seats for companies within the Zohar funds she once managed.
Tilton, whose Patriarch funds invest in distressed debt, testified Friday she personally poured millions into three Zohar portfolio companies and did nothing wrong by retaining control of those firms when a dispute broke out about her management.
The new managers for the Zohar funds accuse Tilton of self-dealing by granting herself perpetual control over the company directorships. They're asking a Delaware judge to oust her from the firms' boards.
There was "no analysis of the economic fairness'" of her actions because that wasn't required as part of a deal to manage the Zohar funds, Tilton told Delaware Chancery Court Judge Joseph Slights.
Set up to invest in collateralized loans, the Zohar funds also took stakes in distressed manufacturing businesses such as FSAR Holdings Inc. and Glenoit Universal Ltd. The new Zohar managers contend those stakes entitle them to replace Tilton with executives of Alvarez & Marsal Inc., a turnaround firm.
Investor Dispute
Patriarch stepped down as manager for the Zohar funds last year over disputes with MBIA Inc. and minority investors about the performance of the entities. Investors questioned whether Tilton was unfairly enriching herself at the expense of the companies she was supposed to be trying to turn around.
More than $800 million of debt insured by MBIA is at stake in one of the funds. Patriarch had sought to push one Zohar entity into bankruptcy and impose a reorganization plan that it said would pay MBIA in full.
During her testimony on Friday, Tilton also rejected claims the she reaped excessive management fees from Zohar portfolio companies. Her critics say she demanded FSAR and Glenoit officials to pay Patriarch as much as $100,000 a month for management services.
Those fees "went to pay the expenses of the businesses and pay the people who did the work," Tilton said in her third day on the witness stand in the Delaware case. Patriarch, founded by Tilton in 2000, has a portfolio of more than 75 companies in 14 industries, according to its website.
The case is Zohar II 2005-1 Ltd. v. FSAR Holdings Inc., CA12946, Delaware Court of Chancery (Wilmington).
Before it's here, it's on the Bloomberg Terminal.
LEARN MORE