U.K.'s Hammond Signals Tories Could Drop Election Tax Pledge
By and
Chancellor says Britain needs flexibility as Brexit approaches

Theresa May seeking to loosen constraints with June 8 vote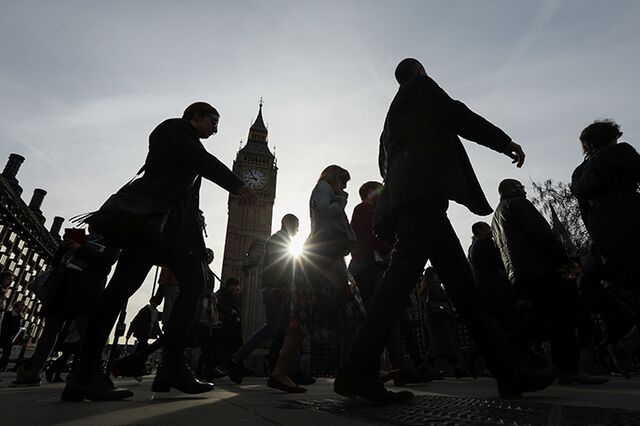 U.K. Chancellor of the Exchequer Philip Hammond signaled the Conservative Party will drop a pledge not to raise taxes as he said it has constrained the government from managing the economy "sensibly."
Asked repeatedly whether the party's manifesto for the June 8 election will repeat a promise not to raise taxes made in 2015, Hammond said the new pledges "will be different." While he believes in a low-tax economy, the government needs flexibility, he said.
"I want to see Britain as a high-skilled, high-employed, high-growth, low-tax, sensibly-taxed economy," Hammond told reporters in a briefing in Washington on Friday. "It's clear the commitments that were made in the 2015 manifesto do constrain the ability of the government to manage the economy flexibly."
Prime Minister Theresa May is seeking her own mandate to strike a deal with European Union leaders as Britain leaves the bloc and the election gives her an opportunity to loosen constraints on policy set by her predecessor, David Cameron. Hammond was stung last month when he was forced to ditch a tax rise on the self-employed in the face of opposition from fellow Tory lawmakers who said it went against the party's 2015 program.
At an event in her electoral district of Maidenhead, May offered more clues to the contents of the manifesto, saying Britain's commitment to spend 0.7 percent of gross domestic product on foreign aid "remains and will remain." She hinted the definition of "aid" might be redefined.
Asked to recommit herself to Cameron's policy of increasing pensions in line with whichever is highest out of earnings, inflation, or at least 2.5 percent, May declined. "All I would say to pensioners is just look at what the Conservatives in government have done," she said.
Hammond said a commitment to balancing the books by the end of the next five-year parliamentary term -- initially slated for 2025 -- will have to be adapted as the snap election has brought that deadline forward. The EU negotiations also require some fiscal flexibility, he told reporters.
"Clearly as we're now going to have an election, and the terms have changed as the parliaments will fall on different dates, we will need to restate our commitment in different terms and we'll do that in the manifesto," he said.
— With assistance by Tim Ross
Before it's here, it's on the Bloomberg Terminal.
LEARN MORE